West African juggernauts Nigeria and Ghana will make the grass suffer more than a little bit when they clash in the final of the sub –regional WAFU Cup of Nations at the Cape Coast this evening.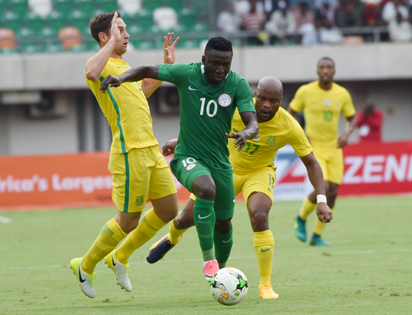 The Black Stars edged Niger Republic in the second semi final on Thursday to set up a date with the high –flying Super Eagles, who confined the hosts to a 2-0 defeat in a group phase encounter on Monday.
According to the schedule of the final day of competition released by the West African Football Union on Friday, the Squirrels of Benin Republic and the Mena of Niger Republic will be at each other's jugular for the bronze medals as from 2pm (3pm Nigeria time), with the closing ceremony set to take the centre –stage between 4.35pm and 5pm.
The final match that will see two teams with seven African titles between them locking horns, will start at 6pm Ghana time (7pm Nigeria time)
Nigeria's Eagles, who are using the tournament to prepare for next year's 5th African Nations Championship, have taken it somewhat easy here, putting up the effort needed to see off Sierra Leone in the first knock–out round, and then easing to 0-0 draws with Mali and Guinea.
When it mattered, they pulled out the stops to turn back hosts Ghana 2-0 to reach the semi finals, and on Thursday, pipped CHAN qualifying victims Benin Republic by the odd goal to set up Sunday's clash with the Black Stars.
On their part, the Black Stars got the standard sucker punch, crashing 1-2 to Burkina Faso's Etalons in Kumasi in the return leg of their CHAN qualifying fixture, after looking to be home-and-dry following a 2-2 draw in Ouagadougou.
The implication is that Ghana's B team has little to look forward to before the qualifying campaign for the 2020 CHAN, and therefore will throw everything into this encounter to have sweet memories in the meantime.
Nigeria's Head Coach, Salisu Yusuf, is not perturbed: "We know what they will be up to and what they will be ready to give to take the trophy. We are more than ready to confront them and give them more than they expect.
"The Super Eagles have become used to winning, from winning the CHAN ticket to conquering Sierra Leone and even Ghana here to reach the final, and we cannot stop now. We want that winning mentality to remain all the way to the CHAN finals early next year."