By Dayo Johnson
Akure—DISTURBED by the security threat occasioned by various abductions of prominent and innocent persons in the state, the Nigeria Army, yesterday, raided kidnappers' dens and arrested seven of their kingpins in Akoko area of Ondo State and border towns.
No fewer than 25 persons have been kidnapped within the last one month in the Akoko area of the state, with ransom running into millions of Naira paid by relations of the victims.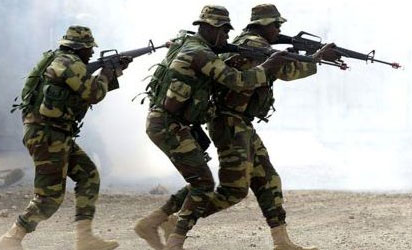 They include traditional rulers, reverend sisters, regent, newly-wedded couple, their best man and relations, university officials and government top officers.
The state governor, Rotimi Akeredolu, last week expressed concern over the security situation across the state and promised that his administration will soon find a lasting solution to it.
Also, the state Police Command, last week, rescued no fewer than five persons, including the groom and others kidnapped in the same area of the state.
Army's statement
A statement by the Assistant Director, Army Public Relations, Captain Ojo Adenegan, said: "The Commander, 32 Artillery Brigade, Brigadier General James Ataguba, personally led the Brigade troop for a special operation to comb the kidnappers' spots within the Akoko area of Ondo State.
"The Commander and his troop did not leave any stone unturned where they raided, cordoned and thoroughly searched various kidnappers' camps and spots at the boundary between Kogi and Ondo states in Akunnu Akoko, Ohogo and Ogale communities.
"During the operation, some suspected kidnappers and their informants were arrested and will later be handed over to appropriate security agency for further action.
"The Senior Special Assistant to the Governor on Security Matters, Alhaji Jimoh Dojumo, witnessed the operation.
"The operation is a follow-up of the rescue of some kidnapped victims at Akunnu and Ose area last week by the brigade soldiers.
"The Brigade hereby advises the public to always give useful information on any criminal activities through the Brigade Call Centre, using the hotlines— 09030002151 and 09030002151.
Ondo youths
Meanwhile, no fewer than 850 members of various secret cults in Akure, Ondo State capital, have renounced their membership of the groups.
Recalled that different cult wars across the state capital resulted in the death of many youths.
Vanguard gathered that the traditional ruler, Oba Aladetoyinbo Aladelusi, his chiefs and other stakeholders met on the security breaches.
A source said elders of the town, who were worried about the development, adopted a traditional means to tackle it.
He explained that they were made to drink some water in the Oba's palace as an oath of renouncing their membership in the various groups.