…Lady badly burnt in police barracks by lover returns from India
By Josephine Agbonkhese
Five years after Mary Sunday, a graduate of the University of Nigeria, Nsukka, was allegedly set ablaze by her   fiancé, a police officer identified as Corporal Isaac Gbanwuan, hope of her living a normal life again, even though still awaiting justice, beckons, thanks to the governor of Lagos State, Mr. Akinwunmi Ambode.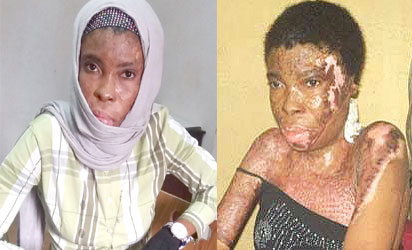 Sunday, who was left with grievous bodily harm, including loss of both outer ears, and her upper neck glued to her arm, has received a cheque of N9.6million covering part of her medical bills from Lagos State government; a sum which facilitated the commencement of her reconstructive surgery in India.
Having recently returned from India where she had undergone surgery on June 3, 2017, the first stage of the three-staged surgery and now awaits the second stage, she told Sunday Vanguard she still needed $10,700 for the third as inflation had made the governor's grant unable to cover the estimates sent to her in 2012 by Fortis Hospital, India.
She said: "I am grateful to Governor Ambode for his financial assistance, which has greatly helped me to get my life back. I am also grateful to the office of the Attorney General and Lagos State Domestic Violence and Sexual Response Team, DVSRT, for facilitating the disbursement of the fund. I also thank the psychologists who have helped me through my dark days and the Women Advocate Research and Documentation Centre that offered invaluable assistance as well as providing me with shelter."
Sunday had been involved in an argument with her fiancé at Pedro Barracks in Shomolu, Lagos, in August 2012 which resulted in alleged physical violence. To escape, she ran into a neighbour's kitchen. But the fiancé allegedly forced his way in, lifted the neighbour's burning stove with the cooking pot of stew that was atop it and emptied the content on Sunday; leading into a fire. The case is presently undergoing hearing at the ECOWAS Court following Sunday's inability to have Isaac prosecuted by the Nigeria Police.