By Johnbosco Agbakwuru
ABUJA—ACADEMIC activities will commence in the universities next Monday, following the suspension of two weeks indefinite strike embarked upon by non-teaching staff of universities.
The Joint Action Committee, JAC, of non-teaching staff made up of Senior  Staff Association of Nigerian Universities, SSANU; Non Academic Staff Union of Educational and Associated Institutions, NASU, and National Association of Academic Technologists, NAAT, had on Monday, September 11, 2017, embarked on the indefinite strike to press for the implementation of a12-point demand, including the 2009, 2012 and 2017 agreements signed by both parties.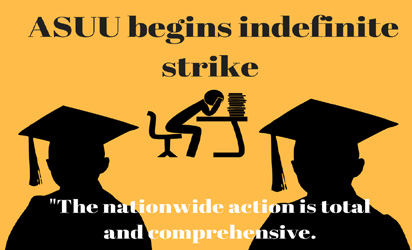 After a meeting with the Federal Government Negotiation Team, led by Minister of Labour and Employment, Senator Chris Ngige, yesterday, chairman of JAC and National President of SSANU, Comrade Samson Chijioke Ugwoke, who spoke on behalf of the three unions, disclosed that the suspension was conditional as the unions would not fail to resume strike, if the Federal Government failed to fulfill its obligations.
He said: "The strike by the university based non-teaching unions was indeed avoidable and would have been averted if government had done the needful. Arising from the series of deliberations and engagements, we have once again gone to the drawing board.
"Following exhaustive and extensive consultations with our various union organs, we hereby announce the suspension of the strike action embarked upon by the Joint Action Committee of NAAT, NASU and SSANU, on the understanding that the time lines agreed with the Federal Government on the various issues are met.
"We have consequently directed our members to resume work on  Monday, September 25, 2017.  In one months  time, we shall be reviewing the level of compliance with the agreement and shall not hesitate to resume the strike action if government reneges on the agreements reached or delays in any aspects."