By Chinonso Alozie
Owerri—Governor Rochas Okorocha of Imo State, yesterday, dismissed the  rumour that his first son, Ahamefule Rochas Okorocha, was dead.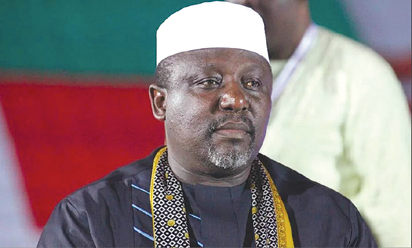 According to a statement issued to newsmen in Owerri by Okorocha's Chief Press Secretary, Mr. Sam Onwuemeodo, the government understood it came from frustrated people.
According to the release, "the attention of the government and good people of Imo State has been drawn to the false publication on the social media, talking about the death in London of Engineer Ahamefula Okorocha, the first son of the state Governor, Owelle Rochas Okorocha.
"The fact and indeed, the real story is that, contrary to the rumour from the kingdom of darkness, the young man is hale and hearty and the wish of the wicked ones would never prevail over him.
"Those who authored the fake death story only showed the level of their frustration and we won't  ask God to help them out or forgive them. They must reap whatever they have sown."
"It should also be recalled that sometime last year, when the governor travelled, these evil-minded elements also rumoured his death and that was also when the issue of Ekeukwu Market came up.
"And this time too, two weeks after the relocation of Ekeukwu Market, they have come up with the same death story and this time, the governor's first son."