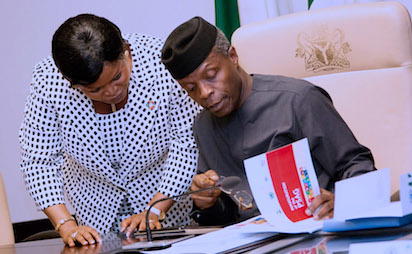 Ag President Yemi Osinbajo and SSAP on SDGs, Princes Adejoke Orelope-Adefulire during the inauguration of Sustainable Development Goals (SDGs) Private Sector Advisory Group (PSAG) at the State House in Abuja.
New York – The Senior Special Assistant to the President on Sustainable Development Goals (SDGs), Ms Adejoke Orelope-Adefulire, says Nigeria is ahead of many developed countries in the implementation of the SDGs.
Orelope-Adefulire said in New York that Nigeria had received global commendation on the progress it has recorded in implementing the global goals.
"In Nigeria today, we have completed the mapping exercise on SDGs, we've done the baseline survey and we have identified 126 targets, localising SDGs," she said.
"I'm sure we are far ahead of some developed countries in the implementation of SDGs and we were commended at the launch of the Voluntary National Report in July.
"That what Nigeria has done is very commendable and we were lauded for the progress we have made so far," she said.
The presidential aide explained that the SDGs came in three dimensions – the social, the economic and the climate change and environment.
According to her, the social aspect of the SDGs still deals with the unfinished business of the MDGs.
She explained that road and rail infrastructure were currently ongoing in almost all the 36 states of the federation and the Federal Capital Territory.
"In agriculture, we are doing well and it has contributed a lot in getting us out of recession. Half of the rice we eat in Nigeria now is being locally-produced.
"So we are now eating what we produce and no longer depend on foreign food. We are planting our foods and the farmers are happy.
"The Federal Government through the Central Bank has given loans to farmers to make farming more attractive.
"We would continue in that direction for the government to provide job opportunities for the people and to provide food security and make sure that people can eat and live decent lives."
Orelope-Adefulire said Nigeria still had a lot of time as it was just two years into the 2030 agenda out of the 15 years life span.
"We're not going to rest on our oars, we're going to work hard and we are working now with the state governments; we are coming to the Local Governments too.
"So that together we can jointly work on SDGs, make life more meaningful to the people of Nigeria and we would try not to leave anyone behind," she said. (NAN)