By Henry Umoru
ABUJA—Leader of  Pan-Niger Delta Forum, PANDEF, Chief Edwin Clark, yesterday, asked President Muhammadu Buhari to, in the interest of peace, reverse all the appointments made at the Nigeria National Petroleum Corporation, NNPC.
Addressing newsmen, yesterday, at his Asokoro residence in Abuja, Chief Clark, who described the appointments and redeployments as lopsided and favoring a particular part of the country and detrimental to the people of the South-South, whose areas host oil exploration activities, urged the President  to immediately reverse the appointments in the interest of fairness and justice.
He added  that  the Niger Delta region which produces the oil was neglected in the appointments, an action, it noted, grossly violated the Local Content Act.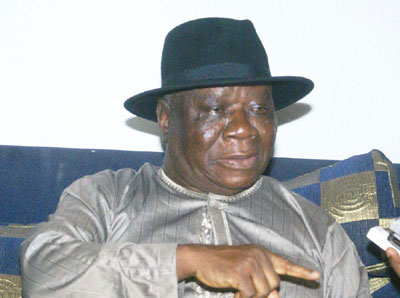 The elder statesman, who noted that the local content law was no longer functioning, warned those he described as cabal around the President to allow Buhari perform properly, saying that the President should not see himself as the president of a particular group, but of the entire country.
He noted that the refusal by the Federal Government to correct the alleged lopesidedness in the appointments has promoted increased agitations for restructuring, even as he ruled out the option of resorting to violence over the matter, pointing out that the people of the Niger Delta had outgrown violence.
Clark said: "We cannot continue like this. The country belongs to all of us. This is why everybody is now calling for restructuring. There is no other option  but to restructure. I don't want our boys to go violent. We have worked for peace and peace has returned. So we cannot go to fight, let us restructure so that everyone controls what is produced in his area."
Reading the list of those who benefited from the appointments, Clark said: "The list shows that the whole of the South has 19 positions out the 55 positions and the North, a non-oil producing zone, has 36 positions, which include the very senior positions.
"We challenge the NNPC or whoever that has a list that 'adequately' distributes these positions to all the zones, to make such list available to the public.
"Top management positions in other subsidiaries such as the Petroleum Product Marketing Company, PPMC, Petroleum Trust Development Fund, PTDF, Petroleum Equalisation Fund, and the Department of Petroleum Resources, one of the Departments in the Ministry of Petroleum, are also majorly held by Northerners."
"The people of the Niger Delta region stand by our earlier position that the recent appointments/redeployments made in respect of the NNPC board and its subsidiaries by Mr. President, is very much lopsided in favour of the Northern part of the country. If the NNPC and some others are making counter claims, they should also make public the 'correct' list. Otherwise, we in the South-South standby by our earlier position that the appointments/redeployments be reversed and an equitable one made in the spirit of fairness, equity and justice."
Chief Clark stressed that the people of the Niger Delta were still contending with the vexed issue of the composition of the Board of the NNPC, where out of the nine members of the Board only one person is from the South-South in the person of Dr. Thomas John, apart from the Minister of State, Petroleum, who is delegated by the Minister, and one person from the South-West, adding, "The rest members including the Chief of Staff to the President are all from the North. The South-East, an oil producing zone, does not have a representation in that Board."