By Desmond Ekwueme
When Enugu Rangers won the League title and did their "python dance" celebration at the Cathedral little attention was paid on motivation and appreciation of the players and technical staff. The BIG MEN who contributed nothing to the success of the club took the front roll and sat like kings before the governor to lie about how they supported with this and that…..and how they did this and that on behalf of the governor and state.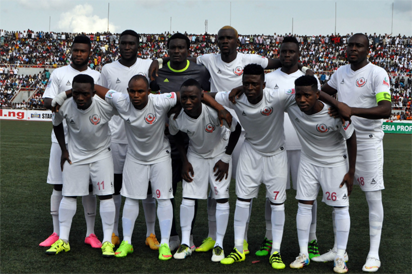 The unsuspecting governor, Ifeanyi Ugwuanyi took all they said hook, line and sinker. The Coal City Flying Antelopes started preparations for the CAF Champions League. The Big men again took the centre stage, some busybodies who think the club belongs to them on account of their years of fruitless and hopeless toils plus being "sons of the soil" engaged the team's management in a muscle flexing show. Everybody wanted to reap where he/they did not sow.
Proposals were flying into Governor's office left, front, back and centre. In between, petitions started pouring in against everybody. It was everybody against everybody. It became a dog eat dog display of power tussle. It almost degenerated into a war. Idlers, jobbers, hangers on, back biters and back "stabbers" had a lot to enjoy.
Everyone became a long time fan/supporter of Enugu Rangers, everyone became a football expert, a world class coach, a match reader and a season player agent. Attention was not paid on details like welfare, motivation, training tours,   equipments, courses for the coaches,   working closely with CAF to have insider's idea of 'What was to come' among other salient issues. The team went into the continent with kids gloves for an African Boxing Union title fight, so to say.
Sadly, the end result was a preliminary stage ouster and the backlash was a huge struggle in the domestic front which placed the team on the lower steps on the League log. The highpoint of the whole drama was the near scandal between the coach Imama Amakapabo and the team's management. The coach was almost labeled a thief.
He was declared wanted. What a way to treat a young man who achieved in less than two years what many could not touch in decades . The hunter became the hunted. They called him names. They said he was a gold digger. They said if he was that good, he should have been in Rivers United FC, his home team. They said he should go after all, he is not from Enugu State. The rest like we always say is history.
Today, the General Overseer of Mountain of Fire and Miracles Ministry (MFM), the parent body sponsoring MFM FC, Dr. D.K. Olukoya has decided to reward and motivate the coach of his club, Fidelis Ilechukwu by sending him on course in Europe. Now,   that is the way to go…..Yes, MFM FC were runners-up to Plateau United. The Bible says, "a labourer deserves his wages." Motivation is part of wages. When you motivate your staff, you are indirectly, saying to him/her, this is for your wear and tear….this is extra for your extra efforts…..
The Man of God knows that to get the Almighty to do better things for us, we must always appreciate Him. And as it is with God in this regard, so it is with man. Little wonder Jesus asked the only leper that returned to thank Him after healing and deliverance, "where are the remaining nine?" Dr. Olukoya has taught our selfish football administrators another great spiritual lesson bothering on motivation and appreciation.
One can only hope they learn and stop their act of stealing all for themselves.   If MFM FC that came second on the League table could have their coach sent abroad on course then, the League winners, Plateau United FC with all the government resources available should do better. I expect coach Kennedy Boboye to be given royal treatment in preparation for next season just like his wards. When we talk motivation and appreciation of players snd coaches, the former Governor of Abia State, Dr. Orji Uzor Kalu readily comes to mind. That he led Enyimba Int'l FC to rule Africa for 48 months is a testament to his commitment to improving the welfare of coaches and players.
Gov.   Simon Lalong, you must have heard, known or learnt one or two things from the tales of Rangers woes in the last 12 months. Your Excellency, it is up to you sir to make a mark by leaving a legacy for good or bad. Let me quickly remind you sir that, it is not enough to say, "I achieved something in the area of sports for Plateau people by winning the League title.
But you will be making more sense sir if, you say, I worked to win the CAF Champions League for my state and people. Your Excellency, this dream is a marathon race and not a sprint. It has already started with Dr. Olukoya's gesture to coach Ilechukwu. Finally, Your Excellency, watch the files, proposals and petitions that will be flooding your desk about Plateau United FC especially from two axis in Abuja. Crooks will be everywhere around you now especially from Abuja. I guess you must have been hearing "We did it" or "we made it happen." or "we plotted it from the beginning."
Please motivate and appreciate the players, coaches and management members who travelled with the club in thick and thin to get to this point.
Finally, can someone say a loud AMEN to this prayer……May the God of MFM who has stood by Dr. D.K. Olukoya and empower him to empower the youths through sports and particularly football especially in this crunchy economic times continue to raise a standard for him in Jesus name….