By Chinonso Alozie
Owerri—Governor Rochas Okorocha of Imo State, yesterday, asked the people of the state, why they should cry more than the bereaved over the demolition of Owerri Ekeukwu market, that allegedly claimed the life of a 10-year-old boy, Somtochukwu Ibeanusi.
The governor made this statement to newsmen in Owerri, through a release by his Chief Press Secretary, Mr. Sam Onwuemeodo.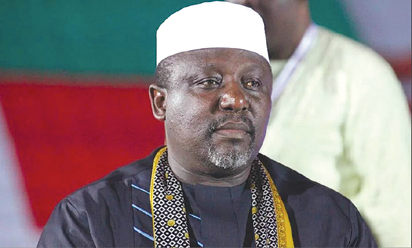 According to the release, "We want to use the opportunity to inform the members of the public to disregard rumours making the rounds with regards to Ekeukwu and whatever it represents. Those things are social media rumours and do not represent practical realities.
"The issue of Ekeukwu was taken beyond the scope it represents.
"And I still maintain that the removal of that market was the best thing that has happened to Owerri capital city and has brought sanity to the city.
"Before now, the headquarter of all criminal activities was the Ekeukwu market and as we progress, we want to live like other cities in the world."
Okorocha insisted that, "It is rather unfortunate that some politicians from Owerri who are on the other side of the divide have politicized the death of the 10-year-old boy and are now crying more than the bereaved.
"And recently, they behaved like educated illiterates by the acts they did at Ukwu Ekwema where they were reported to be calling on their dead forefathers. This is unfortunate and must be condemned."