The former National Vice-Chairman of the Peoples Democratic Party, Chief Bode George, has been advised to step down his ambition to become the National Chairman of the party in the overall interest of the party.
The Northern Youth for Real Change (NYRC) made this call in a statement signed by its Director of Publicity,  Abdullahi Tafida, in Abuja on Saturday.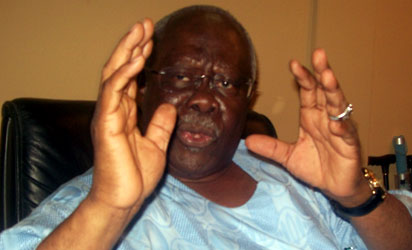 According to the group,  the gains and progress made by the party within the last few weeks after the Supreme Court judgement will be wasted should the party be portrayed to Nigerians as having not learnt from its mistakes.
"Chief George is an elder statesman whose contribution to the development of the party cannot be quantified.  His place in the history of this party is forever sealed. However, for the sake of the party's progress, we are calling on him as a father and believer in the ideals of the party and its potential to retain the statutory seat of elder statesman as enshrined in the party's constitution which is the Board of Trustee.
"We are not unconvinced that his wealth of experience will be much needed to move the party forward,  but we are strongly convinced that this experience, if turned into advisory and mixed with more youthful minded party leadership, the party, Insha Allah, will cruise home to victory in 2019"
The group further reiterated the need for the Chairman of the party to emerge from the Southwest amongst the zones in the South.
"The reality of our politics today in Nigeria remains that the country is a tripod. No matter how we want to put it, in reality, Nigeria is made up of the Northern, Western and Eastern regions.
" Since our party leadership has zoned the Presidential ticket to the North, the choice of Vice-President resides between the East and the West.
"In light of the agitation and marginalization of the Easterners by the present administration, giving the region the Vice-Presidential ticket is the best thing to do in the spirit of national cohesion" the statement said.