VICE President, Professor   Yemi Osinbajo, yesterday challenged African tax administrators to address issues relating to Base Erosion and Profit Shifting, BEPS, and increase transparency in resource mobilisation.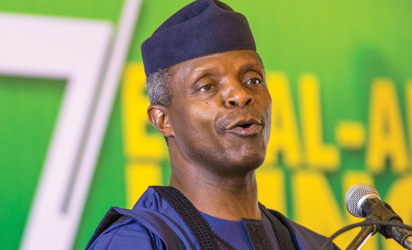 This came as Mr. Logan Wort, Executive Secretary, ATAF, and Mr. Tunde Fowler, Executive Chairman, Federal Inland Revenue Service, FIRS, said at the Senate hearing on new tax bills that Africa lost about $1 trillion to BEPS and Illicit Financial Flows, IFF, from Africa.
Osinbajo spoke while declaring open the 3rd international conference of Africa Tax Administration Forum, ATAF, in Abuja.
The Vice President noted that the continent also needs to ensure transparency and information sharing among member states.
He explained  that information sharing involves establishing automatic information exchange as the new global standard for cooperation in tax matters and ending legal secrecy of ownership of companies and trusts, especially those based in tax havens.  .
According to the Vice President, to contain Base Erosion and Profit Shifting, which has done significant damage to domestic resource mobilization in Africa, a range of potential actions are being planned by member countries of the Organization for Economic Cooperation and Development   (OECD).
"The Forum had committed to this cause since August 2008. After the International Conference in 2008 on a somewhat similar theme: Taxation, State building and Capacity development in Africa, senior tax administrators and policy makers from 39 African countries agreed to work towards the establishment of the Forum as a platform for sharing best practices in taxation matters in the region..
Minister of Finance, Mrs. Kemi Adeosun, said   "There is no rich country with poor tax system and there is no poor country with a strong tax system". It tells you the connection.  So, we need to develop a predictable and transparent tax administration that can guarantee efficient flow of revenue. We can do it. Interestingly, there is a collective reawakening in Africa."
Earlier, Mr. Tunde Fowler,  said there was need to  improve tax systems, increase accountability of states to the citizenry, noting    "Africa needs to enhance domestic resource mobilisation, reduce over-reliance on aids from developed countries and the exploitation of natural resources for the purpose of funding her developmental agenda.
Fowler, who is the Chairman of ATAF, said "ATAF serves as an African network  of  39 States with the aim of improving tax systems in Africa.  Since its formation in 2009,  ATAF  has been in the forefront of championing the cause of taxation in Africa  through the exchange of information, knowledge dissemination,  capacity development and active contributions to the region and global tax agenda," said Fowler.
Also, the Executive Secretary of ATAF, Mr. Logan Wort, said the  Forum's core mandate is to strengthen capabilities not only in the international front but also in domestic tax.
He said in the next three days, tax administrations and tax experts would be discussing opportunities and challenges of building strong tax regimes on the African continent.