Top comedians including Bovi, Gordons, Osama, Acapella, Senator and Arinze Baba combined forces to give residents of the university town of Anyigba in Kogi State and environs, a memorable weekend last  Sunday, when the mega comedy show touring the nation, Glo Laffta Fest held in the city.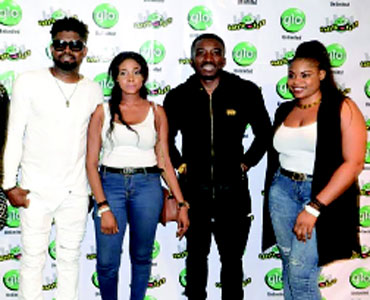 Laughs, guffaw and shouts of conviviality trailed each performance by the comedians as they dished out witty jokes and tear jerking wisecracks that lowered the evil effect of cortisol, the stress hormone on the bodies of attendees.
The expansive Sporting Complex of the Kogi State University which hosted the show was literally bursting at the seams with guests who started arriving as  early as 8am for the event that was meant to kick off at 1pm.
The mammoth audience, consisting of students, officials of the students union, top leadership of the institution, lecturers and residents of Anyigba, had an uncommon fun time from  Osama's curtain raising performance.
The next act, Senator, took the show higher with his peculiar re-enactment of the reactions of various tribes to popular gospel songs. It was one of the highest points in his performance. He invited  Osama back on stage to graphically demonstrate how some Igbo traders count money while listening to a particular gospel song. This elicited an uproarious ovation.
Also performing,  Arinze Baba got the audience shouting 'encore' with his near perfect mimicry of Olu Jacobs while  Gordons and Bovi rounded the evening off with sublime jokes, resonating well and leaving indelible impressions with the audience.
To further enliven the evening, the duo of Kannywood star, Sani Danja and Nollywood legend, Kanayo O. Kanayo pepped up the show with their cameo appearance while  Mercy Johnson-Okojie and Juliet Ibrahim compered the event and DJ Lambo was impressive on the wheel of steel.
Lokoja is the next destination of the tour while cities like  Port Harcourt for the second time, Onitsha, Makurdi and Ajah are on the queue to host Glo Laffta Fest in subsequent weeks.