…Customs Arrests 3 suspects, seizes 1,000 motorcycles
By Udeme Clement
The Ogun Command of Nigeria Customs Service, NCS, is in the news again, as some officers escape death by a whisker when Okada smugglers numbering over 100 attacked them during an operations in the forest to evacuate rice smuggled into the country at Idiroko, the border between Nigeria and Republic of Benin.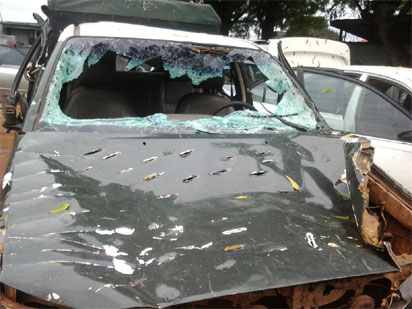 The smugglers who were armed with dangerous weapons took the officers unaware, destroyed their patrol van beyond repair.
It took the intervention of the Military with reinforcement of more officers in about four Hilux vehicles to the scene, to calm the situation. When Sunday Vanguard visited the Command, seized motorcycles were seen on every corner of the Command's premises at Santry, Idiroko axis.  It was observed that the Command recorded more seizure of rice than other items.
Speaking, the Customs Area Controller, CAC, of the Command,  Comptroller Sani Madugu, Said, "We are declaring war on Okada smugglers at Idiroko. Last week, we recorded one causality, but in the last operation, we did not release a single bullet.
We arrested three suspects and over 100 motorcycles, but no life was lost. The suspects must be charged to court and prosecuted accordingly. In a short period, we have seized over 1000 motorcycles used by smugglers to convey rice from Benin to Nigeria through illegal routes and the forest".
"We were lucky to intercept eight vehicles fully loaded with rice, and among  the seizures were tokunbo cars. The incident happened at a forest within a certain village at idiroko. Our investigations revealed that one motorcycle rider can carry up to eight bags of rice at once, depending on his strength.
In a day, he can make up to three trips and he collects about N1000 per bag of rice. So, in a month, one Okada rider can make over N400.000 only in smuggling rice.  So, smuggling rice with Okada is a lucrative business at Idiroko, that is why they do not want to give up.  They are always attacking our officers and some of them can do anything, even they are ready to die in the course of this illegal business".