By Vera Samuel Anyagafu and Prisca Sam-Duru
Road users along Agbara-Atan axis of Ogun State and beyond have continued to experience most unimaginable frustrating gridlock on a daily basis, following the terrible condition of the road.
The Chairman, Idorawa Community, Igbesa, Mr. Olakanpo Opeyemi, was just one among many, who described their experiences on the road as nightmarish. To him, the road is in such a terrible condition that small vehicles contend with the many fully loaded container trailers that ply the road daily.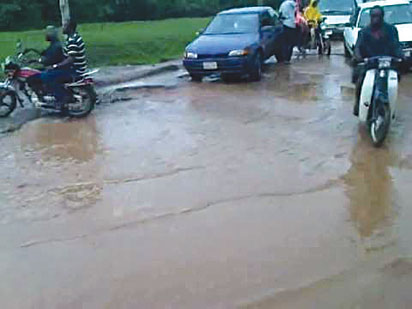 The complaints of the Chairman and residents of this axis, who feel abandoned by both the Federal and state governments were confirmed when Vanguard reporters journeyed from Agbara through Atan to Abeokuta, the capital city of Ogun state, to have firsthand experience of the road.
To say that the road is bad from Agbara end of the road to Abeokuta is an understatement. Residents and commuters narrated the numerous cases of accidents and deaths resulting from the dilapidated state of the road and how their cries and pleas for the state government to come to their rescue fell on deaf ears.
Findings revealed that, accidents occur frequently on the road and when it rains, you can neither estimate the number of hours you will have to spend in the terrifying traffic jam, nor what awaits you in form of accidents or robbery attacks.
In appealing to the relevant authorities to rescue the road from imminent total collapse, the Idorawa Igbesa Community Chairman, who also owns a number of companies along this axis, said "although, in my capacity, I have carried out some road grading within my community, it is imperative that government take charge of the dilapidated state of the road and reduce our pains.
It has caused nightmares for most businesses in this area and sad enough, the relevant authorities know exactly what to do but they have refused to address the pains of the people. It is just inhuman to subject citizens to such dehumanizing situation.
Also sharing her views, a resident and stake holder, Aisha Bello, said that although, there were some ongoing repair works at some portions of the road beyond Atan, it was just like a drop in the ocean. Painting a lucid picture of the road, she said, "The road is so terrible that we see hell every time we go out.
The situation has seriously hampered businesses and many people are on the verge of losing their means of livelihood and I want to add that the Ogun state government has failed us".
However, a number of private school owners who also spoke to Vanguard reporters, described the road as "journeying with blood and sweat".
To some, a journey that would have taken not more than 20 minutes now lasts for close to three hours, while some teachers and pupils now record poor performances at schools, as they would have been physically and mentally exhausted before reaching their respective schools.
Investigations also revealed that some private owned schools around this axis are losing their students to schools located outside the area, as parents groan on daily basis and are afraid of exposing their children to undeserving danger, like kidnapping, serious accidents or worse still, death, as a result of the bad condition of the road.