By Anayo Okoli
UMUAHIA—IN a bid to curtail the increasing hatred among the various tribes of Nigeria and engender peace for the unity of the nation, hundreds of youths from across the country recently converged in Igbere for a peace summit.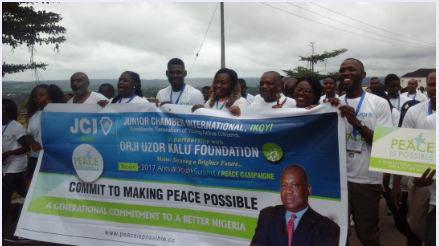 The gathering, the 2017 annual youth summit, also featured a peace rally and road walk which saw the youths march round Igbere community and environs, to stress the need for peace in the country, states, council areas and villages.
Organized by Junior Chamber International, Ikoyi, in partnership with Orji Uzor Kalu Foundation, the summit was hosted by the former governor of Abia State, Chief Orji Uzor Kalu, at his Igbere Camp Neya. Addressing the youths, Kalu lamented the amount of hate speeches going on in Nigeria which he said was unnecessary, insisting that what Nigeria needs now more than ever before is peace; hence his decision to host the youth summit to encourage them to work hard and preach peace across the country.
He commended the youths for initiating the summit, saying that it means that they were worried with the issues in the country and have realized that as leaders of tomorrow, they need peace to achieve their ambition as leaders of tomorrow and even today.
Positive development
Kalu who advised the youths to refuse to be used to cause trouble in the country but to always preach peace and do things that would contribute towards positive development of the nation, said, "for the youth to play any positive role in society, that youth must first seek to build his mind through education and imbibing of positive ideals and ideas that will help him make progress towards his desired end.
"He must also refuse to be used as canon fodder by troublemakers. He must say no to drug, alcoholism, prostitution, etc. The youth must refuse to be used to snatch ballot boxes. He must say no to being used to stuff ballot boxes with the wrong votes. He must rather be  in the vanguard against injustice in society and be able to speak out when the need arises."
The former governor also charged them to work hard and develop the talent God endowed them with and drop the beggarly attitude of some youths, adding, "Youths must stop having this beggars' mentality, which makes many of them think and believe that someone else must give something for them to survive. Youths must also stop having this entitlement mentality."