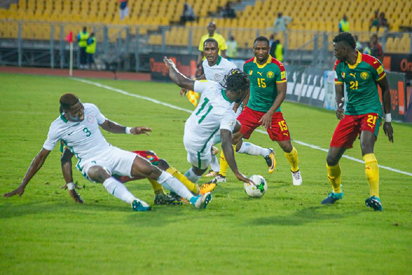 Super Eagles forward, Victor Moses tries to get pass through Indomitable Lions of Cameroon's defenders, Sebastien Siani (15) and Yahia Banana (21) during yesterday' s World Cup qualifying match in Yaounde, Cameroon which ended 1-1.
Pretoria – Some Nigerians resident in South Africa have expressed optimism that the Super Eagles will qualify for the 2018 World Cup to be hosted by Russia.
After being forced to a 1-1 draw by the Lions of Cameroon on Monday, Nigeria leads its group with 10 points from matches of the qualifiers so far.
The Eagles had beat Zambia 2-1 in an away match, defeated the Desert Foxes of Algeria 3-1 at home and battered the Indomitable Lions of Cameroon 4-0 in another home game.
Adetola Olubajo, the new President of Nigeria Union, South Africa, said Nigeria would qualify for the World Cup.
"In spite of the draw in Yaounde on Monday, the signs are there that we will make it to Russia 2018 World Cup.
"I commend the Eagles for their resilience and determination. They played well and did the country proud," he said.
Ikechukwu Anyene, the immediate past President of the union, said the Eagles used "tactical discipline to subdue the Cameroonians in the reverse fixture on Monday.
"The Lions were too physical in their approach. On the other hand, the Eagles had a game plan which was perfectly executed.
"Nigeria could have won that game, but for some chances missed. I believe, we will be in Russia,'' he said.
Trust Owoyele, President, Ondo Union, South Africa, commended the Eagles for remaining focused during the encounter.
"I saw a determined and dedicated Nigerian team. The Eagles played very well and deserved to carry the day.
"The outcome has shown that the win in Uyo was deserved. The best is yet to come, we will certainly be in Russia,'' he said.
Fidelis Igbokwe, a Johannesburg-based Information Communication Technology expert, said that the Eagles were at their best in Cameroon.
"The Super Eagles played well and should have won the match. I urge them to apply the same standard in their remaining matches to book the Russia ticket,'' he said.
Chris Isike, a professor of African Politics and Development, University of Zululand, KwaZulu Natal Province of South Africa, said the Eagles had the tenacity to re-enact the standard of the 1994 squad.
He said the team had shamed critics by topping the "group of death'' in the qualifiers.
"The Super Eagles have been doing well since the qualifiers began.
"I am very optimistic that the team will get the ticket from their group. They should remain focused and continue with same zeal and determination,'' Isike said. (NAN)