The Director General  of National Emergency Management Agency (NEMA), Mustapha Maihaja has commended the untiring efforts of Governor Ifeanyi Ugwuanyi of Enugu State in disaster management in the state, saying that the agency is happy with  what his administration is doing in that regard.
The Director-General, who was represented by the Agency's South East Zonal Coordinator, Mr. Martins Udeinya, spoke at the two-day stakeholders forum of the Enugu State Emergency Management Agency (SEMA Enugu) themed: 'Emergency Preparedness and Response-Key to Effective Disaster Risk Management' and organized in collaboration with NEMA to map out strategies on best ways to tackle the challenges of disasters in the state.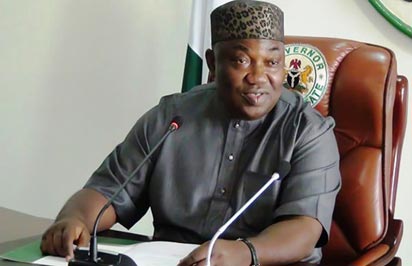 Addressing the forum, Mr. Udeinya said Governor Ugwuanyi has displayed enormous commitment towards the management of disaster in the state, adding that the governor in a bid to effectively drive the vision of his administration in the sector, appointed a new Executive Secretary of SEMA Enugu, Mrs. Nkechi Eneh, who he said has collaborated efficiently with his office to actualize the set objectives of the agency.
"We have a governor who is interested in disaster management. The governor in his wisdom appointed a new Executive Secretary of SEMA, Mrs. Nkechi Eneh, who took off with speed. She was always in my office asking questions in all aspects of disaster management in keeping with the governor's vision. What is happening today is one of the outcomes of the collaboration."