By Emma Amaize
WARRI—NIGER Delta Civil Societies Coalition, NDCSC, has endorsed the nomination of the Pan Niger Delta People's Congress, PANNDPC, led by the former national chairman of the Traditional Rulers of Oil Minerals Producing Communities of Nigeria, TROMPCON, His Majesty Charles Ayemi-Botu, alias Lion of the Niger, to take over the leadership of oil region.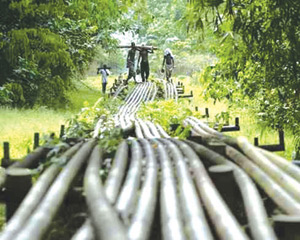 The group in a statement by the secretary general, Arthur Oweilami, also called on the Federal Government to, as a matter of urgency, declare a state of emergency on all-round transformation of the country in the true sense of the word, transformation, adding: "The salient principles of true and fiscal federalism, now encompassed in the restructuring agitation of the Nigerian Federation, is atop our stand."
Its words: "Having carefully examined all the challenges plaguing the Niger Delta region and the need to forge ahead and inject new spirit, vigor and enthusiasm into the struggle for the development of the region, the largest wetland in the world, we hereby back, support and give an unconditional recognition to the Pan Niger Delta People's Congress, PANNDPC."
"The nomination of His Majesty, Pere Charles Ayemi-Botu, especially, and others to lead the Niger Delta is proper and in order having regards to his pedigree, clout and    commitment to the Niger Delta struggle.
"As a founding member and former executive chairman of TROMPCON, he served and when his tenure was over, he handed over and still plays a key role in that organization.    "Niger Delta needs a leader like him. To say the least, the groups that nominated him, even in absentia, must have seen his energy, doggedness and fearless disposition over the years to confront issues that relate to the region," the coalition asserted.
It added: "Further, our coalition wishes to state that the change in leadership in the Niger Delta is in consonance with the change agenda of the Federal Government and in tandem with the new vision being championed by the Presidency, through the office of the Vice President with the critical inputs of the minister of state for Petroleum Resources, Dr. Ibe Emmanuel Kachikwu on the Niger Delta."
"While we call on all sons and daughters of the region to rally round the new leadership, we also call on the Federal Government international organizations, embassies, multinational/multilateral oil and gas conglomerates to work with them to turn the region around," the group said.