Uchenna Ikejiani, popularly known by fans as Carol Jiani is Nigerian  singer based in England, and best known for her early 1981s hit "Hit 'N Run Lover" song.
Recently, the music diva spoke with Vanguard reporter in an interview about her musical  career,  experience in the Music Industry  and other sundry issues. Enjoy.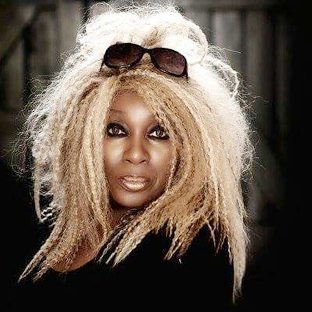 Biological background
I was born Uchenna Carol Ikejiani to an Igbo family in Nigeria. The late Dr Okechukwu Ikejiani was my dad and he is the Chairman of Railway in the early days in Nigeria. He was Chief Awolowo's first Physician.
What spurred your interest in the Music Industry.
Music was accidental and really saved my life and I respect it and followed the path. To make a long story short, I came from a polygamus background. And  as we all know in Nigeria, most of the time, the children suffer when there is a wicked so-called step mother invloved. This is still a problem back home with our people and it is swept under the rug. Now, I was mistreated as a child and abused and my dad did not protect me. I became rebellious as a child and knew something was not right in the way I was treated. My dad sent me to live with my sister the late Miriam Ikejiani Clark in Washington DC. Her husband was the late Chuba Okadigbo.
Now long story short, when Miriam and Chuba moved back to Nigeria I was sent back to the family home. I still fought with the woman my dad was involved with and it was decided that I would be sent away to Montreal Canada to study as to not rock the boat as they say. From there, I ran into difficulties and had to find a way to survive financially. I started to perform at piano bars and put myself through my studies. It was at Concordia University that I met a producer who just happend to be friends with a classmate who was invloved with musicals at the University, and he gave me his card. I actually went to see him and sang for him. That was the making of Carol Jiani, and that was how music shaped and saved my life.
How has the journey been so far
It has been the most amazing journey indeed. Music remains the most powerful tool indeed to help make change anywhere.
In 1980, I recorded two Sandy Wilbur-written pieces with La Greca, "Hit 'N Run Lover" and "All The People of the World". "Hit 'N Run Lover" was remixed by San Francisco-based Moby Dick Records for their Gold Standard imprint and would become my signature song, peaking at number four on the US Billboard Club Play Singles chart in 1981.
On the heels of "Hit N Run Lover's" success, Matra Records commissioned a complete album, also titled Hit 'N Run Lover. "The Woman in Me" was the album's second single but its B-side, the uptempo "Mercy", written by Pete Bellotte and Sylvester Levay.
I came from an era where we had the very best and so many legends. I worked with the best of them and was able to perform at the famous New York Club STUDIO 54 with Gloria Gaynor.
How would you describe the Music Industry when you started?
The list is vast, so many things have changed for the good old days. We had great melodies in the past. Today's music reflects the state of the world. Lack of love.
We had more reputable Major Record labels in those days that invested in the Artistes. We were more disciplined and had to perfect our gifts vocally. We worked harder we had more musicians in those days that played live music.You just cannot beat live music indeed.
We also had Vynil Records more physical copies better quality with Vynil Records.
In the old days, it was much easier for pop stars to keep up with how much they were getting paid. Somebody would buy a CD at a Record Store for £15 and a few pounds would appear months later on the star's royalty sheet.
For many people, the days of wandering into a store, browsing the shelves, and walking out with music stored on plastic are a distant memory. In Japan, however, the CD is still king.
Globally, 39 per cent of all music sales are physical CDs and vinyl, but in Japan, the figure is double that it helps make Japan the world's second biggest music market, selling more than ¥254 billion ($2.44 billion) worth of music a year with most of it in the form of CDs.
I wish the whole world would return to this.
Most Artistes perfected their gifts and could actually hold the notes and could sing. But today, we lack so much of this indeed.
Bring back the old days, where quality held sway and professionals were doing what they do best.
As a music legend, where do you think Nigerian artistes should pay more attention?
Well, for me, I say this all the time that music remains a most powerful tool and an amazing platform that can help make change especially back home.
As an artist, in the public eyes, we have a responsibilty to set the standard. We must respect the fans because without them we would not be who we are.
Now, this nonsense our people are doing drives me insane. Once again, the list is vast but important point is that we must stop releasing tracks with bad vocals production. When the fans are paying to buy tickets to see you perform, they expect to see you performing these songs live.
Stop the miming especially when they cannot even mime properly. The fans struggle in Nigeria to find where the next money for food will come from, yet when they go out of their way to buy the tickets to see you perfom, you do not sing live. You are cheating the fans.
This thing we are calling African time it must stop, there is no order. We need order to stop keeping the fans waiting. Events always starting extremely late must stop. This is a job.
Also, stop expecting the Artist to work for free. We must also use the platform and give back and help our people back home and show them that they are worthy.
The Black African Man has The Black African Man in bondage. We must use the platform and help make change.
On healthcare, back home our people cannot afford treatment. I lost my son Harry Chuka to a rare form of brain tumour factory Neuroblastoma. He died this year April 6th and I buried him May 9th. I would like the Artistes to come together and raise awareness about how disruptive cancer can be. I promised my son on his death bed that I would especially come back home and campaign for better facilities and to equip the hospitals.
Not just cancer, our people are dying of even treatable things like Asthma etc. To all the Artistes that continue to fly all over the world showing pictures of cash lying around it is not tasteful. I want them to be more sensitive. The fans that paid for your tickets, some are starving, so let's respect the fans, the people that bought the records that put you up there. We need to stop the negative culture of auto tune in studios. I sing live and hit all the notes. This is often misused in the industry. Artistes be nice and stop the attitude, set an example, be humble because without the fans we would not be who we are today. So many of our Artistes have a bad reputation and not showing up for concerts. Be careful of the Cowboy Agents that take the deposits money and run.
Are you still doing music and how do you handle competition given the fact that there are now lots of talented music artists in the country.
Yes, still recording, I have never stopped and I am working on a new project. Thanks to Kingsley Eno Osagie also known as Winning Jah, a Composer, Singer, Song Writer, Entertainer, Multi-instrumentalist and Philanthropist. He made this possible and introduced me to King Wadada Nigerian legend reggae musician, singer, and songwriter. In 2010, he won the Kora Awards as Africa's best reggae artist of the year. He is best known for his song "Holy Holy." We are collaborating on a Raggae Anthem as we speak. He is an amazing artist and loves his work. We both have great vocals and that is what is coming soon. He is a wise man and wants to use music to also bring positve change.
I have never felt or thought of the competion side of things as you ask because I am sure of myself. I learnt from the best. I used to listen to those that walked before us. Not just the female vocalists, but the male vocalists also. When you admire someone's great vocals, one should be glad to be in the company of one. I personally stand aside, there is no other Nigerian female vocalist that sounds like me. I have perfected my vocals through hard work and I am confident of my vocals.
What personal traits have helped you become a successful artist?
This is such a crazy business as you know. Being honest and taking responsibility for your actions are admirable qualities.
Adaptability and compatibility are great traits and can help you get along with others. Drive and determination will help you keep going no matter what. Compassion and understanding relating well to others. Patience is a virtue and also a good personality trait. Courage will help you do what's right in tough situations.
Loyalty is a good quality to possess, making others trust you. Intergity is so important. Most of all, always be most professional.
What are your other interests?
I love radio. I hosted a few years ago with Raymond Bola Brown on Igroove Radio Nigeria. And I would love to launch a Radio Station one day also. Music and sports are powerful tools to getting the youths off the streets and crime by keeping them active and getting them invloved with sports. Brilla 88.9fm presenter Shangallo is also passionate about this and has an amazing idea about this cause.
I love flowers and hope to launch a floral shop one day back home. I am passionate about healthcare back home and that is also what drives me at the moment, a change must come. Our people are dying and that has to stop.
I am determined before I die that in Nigeria, we would have a 24/7 electricity. There is work to do.
I should be made minister of something back home, (laughs). Seriously there is work to do. I am interested in positive change.
What are you working on presently
I am working on the collaboration with King Wadada and also a new single for my Western fans Dance music Title.