…pledges to domesticate use of indigenous sports kits
By Emmanuel Elebeke
ABUJA – The minister of Sports and Youths Development, Solomon Dalung has charged state Governors to donate some percentage of their security votes into sports in order to reduce youth's restiveness.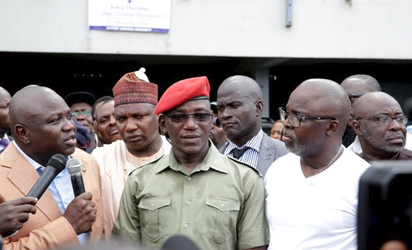 The minister made the appeal on Tuesday during a joint press conference with the minister of science and technology on football competition in honour of former Governor of defunct Eastern region, late Dr. Akanu Ibiam in Ahuja.
The minister said the appeal became necessary in view of the rising rate of unemployment in the country, saying that such step would help in addressing the menace of youth restiveness and insecurity in the country.
''The miracle of security votes does not lie in donation of weapons, but in provision of social security. They should donate a percentage of the security vote to us and build sports facilities to engage our idol youths, who have talents, but can't utilize their talents due to inadequate facilities across the country. That is where real social security lies.
''It will be unfortunate that the sacrifice of our heroes will be jettisoned for the interest of balkanization of the country. We are celebrating a life that was a reflection of excellence and integrity.''
'The greatest challenge is that we have mortgaged reward system. We are in a society where people are celebrated based on what they display. We must reposition the society in such a way that those who worked hard will be rewarded.
''We must reverse back to where we missed it.''
He further assured that that ministry would come up with policies to domesticate the Akanu Ibiam Football competition and to ensure that his ministry patronise all sports kits produced by the science and technology ministry.
He also promised to go into mobilization of Nigerians for the sports competition.
In his remarks, the minister of science and technology, Dr. Ogbonnaya Onu described sports as unifying factor in Nigeria.
He said it was important to honour the late Akanu Ibiam for making Nigeria proud as he was acknowledged globally with his election as the first black man to be elected as President of World Council of churches.
He said the football was important because it came at the time our nation was desirous of unity and must be promoted.
He said his ministry is committed to moving Nigeria away from resource to knowledge economy. We want to show Nigerians that our ministry is capable of producing sports kits we need. Sports is veritable instrument that can be used to achieve national unity,'' he added.
The Akanu Ibian Football Competition is meant to commence on 10th November with 24 under 18 teams drawn from across the country at Abakiliki, Ebonyi state and is meant to rotate to other states in subsequent editions.
Earlier, the national coordinator of the competition, Ifedi Okwenna said the football competition was packaged in the honour of the late statesman and distinguished sports philanthropist to promote national unity among the youths and to showcase the research and development of our researchers who had done so much in the area of R&D and innovation.
He also said that the competition would be channelled towards recreating sports by encouraging our sports men and women to play with locally made kits