By Emma Amaize, Regional Editor, South-South
WARRI—REFORMED Niger Delta Avengers, RNDA, and a coalition of nine militant groups, yesterday, temporarily suspended their threat to restart attacks on oil and gas facilities in the Niger Delta region.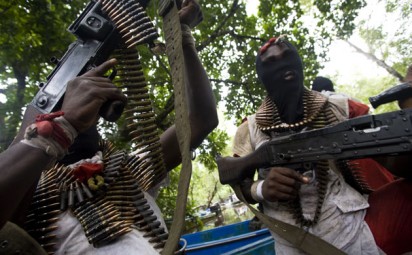 Leader of RNDA, self-styled "Major General" Johnmark Ezonbi, in a statement, said: "RNDA and a coalition of nine militants have temporarily suspended the two weeks ultimatum given to the Federal Government to resume fresh attacks on oil installations and facilities in the Niger Delta if they continued to discuss with the disbanded Pan Niger Delta Forum, PANDEF.
"This resolution to withdraw our ultimatum followed the pleas from well-meaning Niger Deltans not to resume fresh attacks on oil facilities because it will further put the region in a bad spotlight.
"We also considered the verbal release of N2 billion by the Federal Government as stated by the Vice President, Professor Yemi Osinbajo, in Akure for the take off of the Nigerian Maritime University, Okerenkoko, which had been delayed for some political reasons.
"But if nothing tangible is done for the smooth take off of the institution in October, then we will act appropriately."
"The pleas from the paramount ruler of Seimbri Kingdom and former national chairman of TROMPCON, HM Pere Charles Ayemi Botu; Ogulagha monarch, HM Joseph Timiyan; Coordinator of the Pan Niger Delta People's Congress PNDPC, High Chief Mike Loyibo; former Governor of Bayelsa State, Chief Timipre Sylva; former Minister of Police Affairs, Alaowei Bozimo; Secretary, PNDPC, Professor Benjamin Okaba, and National Chairman of HOSTCOM, Dr Mike Emuh, among other notable Niger Deltans, cannot just be neglected.
"Hence we decided to temporarily suspend the ultimatum.