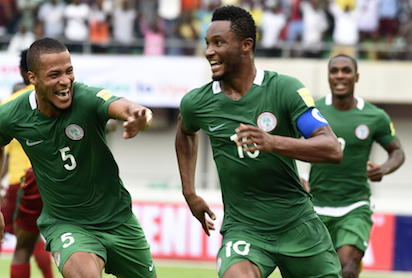 Nigeria's Mikel John Obi (C) celebrates with teammates William Ekong (L) and Odion Ighalo after scoring a goal during the 2018 FIFA World Cup qualifying football match between Nigeria and Cameroon at Godswill Akpabio International Stadium in Uyo, southern Nigeria, on September 1, 2017. / AFP PHOTO
For his big comeback against Cameroon, Super Eagles captain John Obi Mikel was one of the craftsmen of the 4-0 defeat of the Indomitable Lions. In Uyo.
Mikel, who returned to the pitch after a long period of absence following an injury, made a strong impression by scoring a goal, after providing a decisive pass for another goal by Odion Ighalo.
Seduced by the performance of the former Chelsea midfielder, his wife,  Olga Diyachenko, did not hesitate to show her affection on social media.rks.
"I'm proud of you my Pooh1 … always and always," she wrote in a post on Instagram after the game.
A support that should reinvigorate Mikel, for the return leg today in Yaounde.
After their heavy defeat in Nigeria, the Lions will have much to do to hope to stay in the race for the 2018 World Cup qualification.