By Yetunde Arebi
Hi, I found this letter written by someone I will simply call Sister G because of the sensitivity of the contents. The piece is so interesting I just couldn't help sharing with you. As I read, memories of a former neighbour came flooding through my mind. She had a young boy living with the family, whom I later discovered was her husband's nephew.
Though the boy went to school like every other child, he was made to pay for every kobo spent on him through his sweat. He was responsible for almost all the house chores and errands, except perhaps cooking family's meal. He took care of his uncle's three little children. I had no problem with all these, but with the dehumanising treatment and abuses he also had to endure in the hands of his aunt.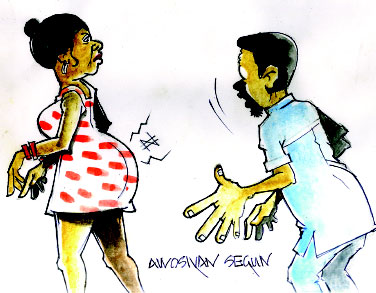 He had his plate and cutlery set aside from the rest of the family like a dog or someone suffering from a contagious disease. He was never allowed to sit at the table to eat, he had his meals in the kitchen. They lived in a three bedroom apartment, but he had nowhere but the kitchen store to keep his belongings and slept on a mat in the kitchen. When he was allowed to watch Television with the family, he had to sit on the floor and at a distance too.
As far as my neighbour was concerned, the boy was either too dirty and stupid to be allowed such privilege, or she simply couldn't tolerate him. But while everyone labelled her wicked and insensitive, no one could understand how she could carry on like that with the knowledge of her husband. To make the situation more damning was the fact that the couple was supposed to be "spirit filled Christians" who ought to radiate love in all they do.
Such was the experience of Sister G as narrated below. I hope you will learn some lessons from it.
Dear Yetunde,
I enjoy reading your column very much. Briefly, this is my own personal experience which I'll like the whole world to know about. For most people, the problem is always with their brother's wife. It is usually wives who are envious of their husband's family members and do not want them to come around. But what about the husbands of our sisters and aunties?
People seem not to care   much how these husbands treat and behave to their in  laws and their wives may often support their husbands' bad behavior because they probably have no choice. From   my own personal experience, my sister's husband was a vicious and arrogant person who felt threatened   by our presence.
You can imagine him telling us not to come to his house unless we were invited. Even sometimes when we were invited, he would just send us away without prior notice. When we were younger, he would insult us and our parents. My sister was the first born of the family of eight children from a monogamous marriage. We were brought up by our lovely parents in the Christian way.
Whenever we had cause to report his hostility to our parents, they would always say that they did not want to destroy their daughter's marriage. My sister and her husband do not want any progress for the remaining seven children. Our sister doesn't care whether we exist or not, she supports her husband all the time. Right now, my relationship with her family is such that we do not talk or visit each other anymore.
I am presently doing my National Youth Service, but I can tell you that throughout my four years in the University, neither of them gave a kobo or a cup of Garri. My sister's husband was not happy when I got the admission. Our parents are old, they can only provide for themselves from the little they get from their farming, so giving me any money was completely ruled out.
Only God knows how I survived throughout my four years in the University. But I survived, which is the most important, thanks be to God. It is not as if these people are not capable of helping us. The husband is the Company Secretary of a successful Merchant Bank in Lagos, while my sister is also a Senior Manager in a Commercial Bank in Lagos too.
I swear to God who created both of us, my sister is believed to be a witch by her husband, so they often quarrel but yet they can't do without each other. If your own blood sister can't discuss your welfare, guide and advise you, then there is no basis for any relationship. All that the couple wants is just to use you to their own advantage and dump you.
This they did to my immediate elder sister. She lived with them for ten years without anything to show for it, not even a certificate. In their house, you can't go out, yet you dare not ask your friends to visit. If you do, the bulldog of a husband would shout at you or even ask your visitor to leave. With his continuous embarrassing actions, you can't command respect from your friend anymore, you can't even have a boyfriend.
Telling the story of how I survived after my School Certificate to the University level will definitely take a whole book. Life in their house is like going to hell. I'm the only person who resisted their oppression and today I'm like a pillar in the family. The husband hates me but he can't show it,    so he pretends to like me. He can't talk to me the way he talks to the others.
Yetunde, I am not just praising myself but one has to be realistic when it comes to this kind of matter. Through their wickedness, they taught me how to be independent and how to fend for myself which over the years toughened me that I believe will enable me withstand any problem in this world. I'm just 25 years old and will soon finish my Youth Service.
The worst of it all is that, the husband doesn't have any regard or respect for my parents. This pains me a lot. The husband would sometimes ask my mum to leave the sitting room with the excuse that he would be having visitors. The husband can't prostrate for my parents neither does he have any respect for any member of our family.
Have you ever seen a situation where a son- in  law would not see his mother-in  law for four days while they lived in the same house? Yet, my sister can't challenge her husband while my parents never complained because they believe they have to keep their daughter's marriage at the expense of their respect. It is not as if he gives them money. During Christmas period, he only gives them Calendars and Diaries, that is all. Of what use are these to poor old farmers? God should punish me if I have told a lie (amen).
And do you know that the husband does the same to his own younger ones too who are just three from his mother. However they are from a very violent polygamous home. Believe you me, because of our common predicament, we are very close to his younger ones. When we sit down to discuss, there is no other issue but our sister and their brother. I believe very well that ten of us cannot be wrong, after all, the youngest amongst us is 17 years old who has just finished her School Certificate Examination.
Those who live with them, do so because they have no alternative, but if you see them they are like slaves. If they (husband and wife) travelled abroad, which they often do, they will only buy things for their children not even underwears for the poor ones who help to look after the house and their children.
You only eat once a day in their house and that is in the evening. Can you believe this, when they know that you don't have a means of livelihood. But their children will eat nice meals to be prepared by you. Sometimes on your lucky day, you may be asked to eat the remnants of yesterday's meal or the food rejected by the husband. At times, it could be food   which might have gone stale in the freezer. Imagine all these from someone of the same blood and flesh.
The worst thing is that to outsiders, we are a family to envy. They believe we are very close and united, so much so that people in our village aspire to be like us. You see, we were brought up to keep our secrets to ourselves. My parents keep saying that it is the wall that leaves its mouth open that a lizard enters. Thus, we do not discuss our family with outsiders. This has encouraged my sister and her husband not to give a damn about what they are doing.
Just recently, I realized that their viciousness, nonchalant attitude, arrogance should be exposed. When I get to Lagos,   I shall start going round asking all my in  laws' friends to talk to him and his wife to change their attitude towards their younger ones.
Well, I believe that readers will definitely learn and know that it is not only wives that are bad but some husbands too are demons. Some sons-in  law are wicked, disrespectful, stingy, selfish and arrogant. They only know how to use you for their own selfish ends.
So, Yetunde, this is not a fabricated story but my true life experience I know somebody out there may share a similar experience with me.
Thank you
Are you this person? Please, let's try to show more love, and not hate. Do have a wonderful weekend!