Gov. Akinwumi Ambode of Lagos State has pledged to provide adequate statistical infrastructure and funding to ensure timely and reliable data in the state.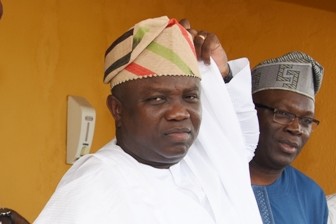 Ambode made the pledge at the  opening of three-day maiden edition of International Statistical Conference, organised by the Nigerian Statistical Association (NSA) on Wednesday in Lagos.
Ambode was represented by his Special Adviser on Education, Mr Obafela Bank-Olemoh.
The governor said the administration was determined to provide funding to ensure that reliable, acceptable and right statistics were provided in good quality and timely.
He said the administration was also determined to support statistical infrastructure, to provide quality data to help take appropriate actions that would give dividends of democracy, through good governance, to the people.
"We will also encourage effective dialogue between you as experts, the policy makers and researcher as key users of statistics,'' the governor said.
Ambode said the state was aware of the problem of data explosion or data revolution in its statistical system.
"As the structure of government is expanding, the amount of data we need to gather and process to govern our complex economic, social and environmental system is daunting and enormous.
"The demand for data about the state from development partners at household level, firms/industry, various organs of government have continued to expand.
"These are areas, I feel your conference will help to provide workable solutions to.
"The volume, variety and speed of data required to monitor and evaluate social-economic activities in this century is huge,'' he said.
The governor, however, expressed optimism that the outcome of the conference would help the state to redefine strategies for improving statistical data production, usage and dissemination.
Also, Mr Molla Asmare, Acting Head of Data Technology Section, African Centre for Statistics, UN Economic Commission for Africa (ECA), Ethiopia told the participants about the projects of the commission.
Asmare said ECA had been implementing a project on the use of mobile devices for data collection in 11 countries in Africa.
He said that the project had convinced many countries to use mobile technology for the 2020 round Population and Housing Censuses and other surveys and census.
"We are aware of the open data initiatives at global, regional and at country levels; these initiatives alluded to the fact that open data brings diverse benefits and efficiency.
"The economic benefit from an easier access to data and statistics contribute to better social services and creation of economic benefits as well as create transparency to the society,'' he said.
The official also said that the organisation had an initiative on making official statistics by default, adding that the initiative garnered lots of attentions during the first world data forum.
"We have piloted this initiative in Ethiopia and planning to roll out other African countries.
"We promote the use of big data for official statistics which requires lots of research and devising methodology.
"All these work can only be achieved with close collaboration with training and research institutions and professionals in the field like you,'' Asmare said.
In a lecture, Mr Michel Mouyelo-Kataoula , International Statistical Consultant, spoke on the topic "How Useful are our Statistics to Government at all Levels and Ordinary Citizens''.
Mouyelo-Kataoula said the government needed to work on data culture and create more awareness on data right and data language.
"We need to review the way statistics is reported. We need to let every citizen know the usefulness of data and encourage them to use data,'' he said.
Newsmen report that representatives of CBN, University of Lagos, National Population Commission and National Bureau of Statistics (NBS) also spoke at the ceremony.
The conference, which started on Monday with two day pre-conference workshop to update members on new techniques of data gathering and processing, will end on Friday.
NSA was founded in 1976 as a non-profit making professional body of statisticians, economists, planners, demographers, analysts and corporate organisations with interest in statistics
NAN