Exactly a year has passed since Alex Iwobi sat down with Standard Sport for his first major newspaper interview to discuss a whirlwind breakthrough. Within the space of nine days, beginning in late October, 2015, the Nigerian midfielder made his debuts in the Capital One Cup, Premier League and Champions League and, thereafter, quickly established himself as a fixture in the Arsenal first team.
Iwobi admitted there had been little time to reflect on the speed of his rise but we now meet at the launch of EA SPORTS FIFA 18 following a spell of introspection.
It would be virtually impossible for any player to continue progressing at the rate Iwobi did but 2017 has posed the first serious test of the 21-year-old's durability.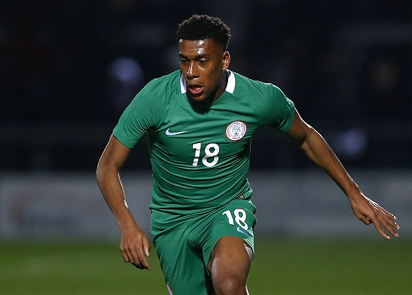 Having started 13 out of 14 matches in all competitions between mid-December and early March last season, Iwobi was sacrificed as manager Arsene Wenger reshuffled the Gunners in both personnel and formation.
After Wenger remoulded Arsenal into a 3-4-2-1 shape on April 17, the Gunners won nine of their final 10 games and lifted the FA Cup. Iwobi did not start in any of them.
"It was hard but something I had to learn from," he said. "If you are not performing consistently at a club like Arsenal, then there are other players ready to take the opportunity — which I learned the tough way.
"I wasn't involved as much as I wanted to be but I just had to be patient, still have the same attitude, work hard in training and wait for my chance again. That's what I've been doing.
"Obviously, I am an attacking player, so when you are an attacking player, you need to create goals and get goals — and that's the main thing for me. People in my position were doing better than me in that aspect of the game, which is to eventually win games, and that's something I had to work on.
"I never played it [three at the back] as a youngster growing up. I have played several ­positions in it — left wing-back, left off the forward, central midfield. Whatever role I get told to play, I just have to adapt to it and play. I don't really blame the system, I more blame myself."
Plenty of people were ready to apportion blame during difficult times at ­Arsenal last season, described subsequently by Wenger as an "absolutely horrendous" psychological environment.
The unrelenting growth of social media exposes players to uncensored ­opinion — with no better example for Iwobi and his team-mates than Arsenal FanTV.
So, do the players ever tune in? "It would be a lie to say, 'No, they haven't watched it,'" said Iwobi. "Fans have the right to voice their opinion whether positive or negative, they are the lifeblood of the club.  As a football player, you should learn how to deal with negative comments, it comes with the territory. Our focus is to play football and do well for the club."
Wenger's future was in the balance until after the end of the season and Iwobi admitted his relief that the only manager he has ever known opted to sign a new two-year deal.
"We were all concerned [that he might leave]" he said. "For me, as a player, he is someone who has given me an opportunity and had faith in me so I was a bit worried.      Iwobi's immediate task is to regain full fitness after suffering a thigh problem.
When he does return, Iwobi will need to be ready at a moment's notice. Despite intermittent ­involvement this season, he was suddenly called on to start Arsenal's biggest match of the season to date, securing a gutsy 0-0 draw away at ­champions Chelsea, only finding out for certain he would play on the day of the game. And, after a slow start to the campaign, Iwobi believes the Gunners have turned the corner.
"Especially after the [4-0] loss against Liverpool in August, we had a lot of critics saying, 'Arsenal are going to throw it away again'," he said. "But we have bounced back, we were able to put in some good performances. As a player, I am ready to bounce back.
"Everyone wanted to prove to the world what we are capable of doing — and there is no better way of doing that than against the champions at their home ground.
"At the end of the day, there could be injuries which come left, right and centre, so you might be chucked in to play a Premier League game or on the Thursday in the Europa League. No matter the situation, you have to be ready for it."
All the evidence suggests Iwobi will be, even as he gears up to link up with his Nigerian team-mates for next Saturday's 2018 FIFA World Cup qualifying match with Zambia at the Godswill Akpabio Stadium, Uyo, Akwa Ibom State.
Iwobi did not feature in the last two World Cup qualification matches against Cameroon and  after being invited by Coach Gernot Rohr for the looming clash with the Zambians, the Arsenal forward would want to mark his Eagles record with the goals that hopefully will secure Nigeria an early ticket to the Russia 2018 World Cup on October 7