•The President in the eyes of his people
•The Emir's 2019 prayer
By Bashir Bello
EVERY year, President Muhammadu Buhari celebrates the Muslim big Sallah, known as Eid-el-Kabir, in his Daura hometown, Katsina State with his kinsmen and well-wishers.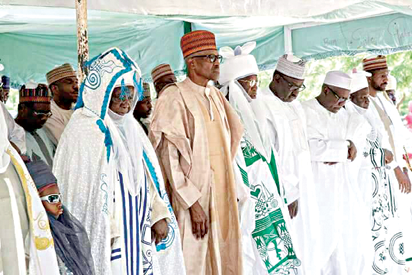 This year the tradition didn't change.
The only difference is that it was the first time the natives would be seeing the President in flesh and blood since he returned from London where he stayed for more than 100 days receiving treatment for an undisclosed ailment.
So controversial was the medical vacation that it was not only rumoured at some point that he was on life support, he was also said to be dead.
This created disquiet among Daura folks who comforted themselves with prayers that their kinsman will not die.
Relief came their way when Buhari returned to the country last month and decided to celebrate Sallah in Daura.
The President arrived Daura, penultimate Wednesday, in a helicopter from Katsina where he had landed in the presidential plane. On arriving Daura, his kinsmen gave him a tumultuous welcome as thousands of people waited to receive him at the helipad, hailing him as he walked to his home, a short distance away, amid tight security.
On Sallah day, penultimate Friday, natives trooped en-masse to the Kofar Arewa Eid Ground where Buhari prayed to catch a glimpse of Mr. President.
Despite the fact that security was tight at the praying ground and the natives were subjected to long queues by security agencies using sophisticated gadgets to screen them before being allowed in, they patiently waited to gain entrance.
Buhari arrived the eid ground at about 9:45 am to a standing ovation after which the two rakat prayers, led by the Chief Imam of Daura Central Mosque, Imam Salisu Rabiu, commenced and lasted two minutes.
The faithful, who were eager to see the President, ferociously waved at him and he responded by walking close to the barricaded area to wave back at the mammoth crowd as they chanted "Sai Baba".
Earlier, the Emir of Daura, Alhaji Umar Faruq, who prayed alongside the President, had grabbed the microphone and, in excitement following the recovery from ill health and safe return of their son, said the natives were proud of Buhari.
He stated that God had put to shame those who were wishing him dead.
Faruq then prayed for the President to complete his remaining two years of his first term in power and another four years.
The Emir called on well-wishers not to relent in their prayer for Buhari to lead the nation to greater heights.
Buhari's return brought relief to natives – 76 – year – old resident
A 76 – year-old Daura resident, who identified himself as Mai Anguwa Alhassan Chadi, told Sunday Vanguard, in an interview after the Sallah prayer, that Buhari remained their hero because of his pro –people nature, saying his visit had afforded the natives the opportunity to confirm he had fully recovered from his sickness.
"We are relieved to see him hale and hearty", he said
Chadi said that, like most Daura natives, he was very sad and worried when Mr. President was away on medical vacation coupled with the raging rumour that he was dead.
"We are most happy with the return of Buhari to the country healthy and his visit to his folks for Sallah celebrations. I feel happy to the extent that, at night and sometimes till day break, I still listen to the radio to know how he is faring", the septuagenarian said
"We were not happy when he was away on medical vacation to the UK. We were worried. But when he returned, we became happy and relieved.
"We were praying God to eliminate and destroy those wishing him dead".
I can't quantify my joy – Daura
Another native, 57-year-old Muhammadu Rabiu Daura, said he was excited with the return of the President and could not quantify how joyful he was.
Adnan Na Abu, who also spoke to Sunday Vanguard, described Buhari's return to the country and visit for the celebrations as momentous.
"President Muhammadu Buhari's visit for Sallah has electrified the whole town. Everybody is in high spirit", Abu said.
"He made it a tradition to celebrate Sallah at home even when he was a military head of state. So it is something that has been happening for decades. But what makes this one different is seeing Mr. President in our midst after going on medical vacation and returning safely and fully recovered".
To Ahmed Ahijdo Wali, Buhari's visit added colour to the Eid – el – Kabir celebrations in Daura as people were jubilating that he returned safely from the UK.
"We performed the two rakat eid prayer with Mr. President and we saw him in good health", Wali told Sunday Vanguard excitedly.
"Buhari's visit for Sallah saw natives jubilating like never before. People were very happy. In fact, on his arrival, people in their thousands went to welcome him and so massive was the crowd that the President had to abandon his car to walk from the helipad to his house. And for the Sallah, people thronged the traditional eid ground, the Emir's eid prayer ground, including people from Niger, just to see President Buhari. The occasion was most colourful".
Why Nigeriens came –Kallah
The Treasurer, Buhari Youth Congress for Change, BYCC, Yawale Musa Kallah, who also spoke to Sunday Vanguard, confirmed that well-wishers from the neighbouring Niger republic joined Daura natives to celebrate the President's full recovery from illness, safe return to Nigeria from the UK and visit to his ancestral home for Sallah, saying they also thronged the eid praying ground to catch a glimpse of Buhari.
"Daura was agog for the visit of the President for Sallah and being the first time after his medical vacation", Kallah said.
"He arrived the eid ground to a rousing welcome and the prayer commenced immediately. After the prayer, the faithful waved to him in excitement. They chanted 'Sai Baba'. He waved back to the mammoth crowd".
Meanwhile, natives and well-wishers kept visiting the President in Daura.
Among the well-wishers was Governor Aminu Bello Masari who paid Sallah homage to Buhari alongside the Emir of Daura penultimate Saturday.
The Nigerien leader also visited.
The National Youth Service Corps, NYSC, members in Daura zone were not left out as they thronged the President's residence to show their solidarity.
Strategic areas of Daura, including the road leading to Buhari's residence, were decorated with the President's posters, banners and billboard.
Buhari returned to Abuja on Wednesday.