By Lawani Mikairu
Foundation for Ethnic Harmony in Nigeria, FEHN, has concluded plans to train 45 members of Indigenous People of Biafra, IPOB; Oodua Peoples Congress , OPC; and Arewa youths on ethnic tolerance and harmony and how to create understanding that can make Nigeria a united and peaceful nation.
Chairman of the foundation, Allen Onyema, who made the disclosure in Lagos, said the trainers, who will be coming in next week, specialise in conflict resolution, and will be coming in from the United States of America to organise the training and after the training in Nigeria, the beneficiaries would also be taken overseas for further training at FEHN's expense.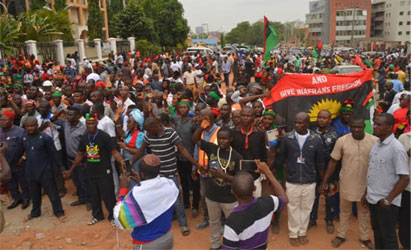 Onyema, who is also the chairman of Air Peace, said the objective of the training is to make the "beneficiaries to eschew all those things that create division among ethnic nationalities and to see and help to building Nigeria as one, united entity and also help to galvanise their members to unite and campaign for one united Nigeria."
He said his foundation had been promoting peace and unity in Nigeria, an effort which started during the Niger Delta militancy, which contributed immensely in quelling the crisis in that part of the country.
"One thing you cannot take away from Nigeria is our resilience and this resilience comes from the fact that most Nigerians want to remain Nigerians. I think what most people are against is perceived injustice or imbalance but the most beautiful thing is that most people want one, big Nigeria than a fragmented Nigeria," Onyema said.