***Parleys with World Bank officials
By Henry Umoru
ABUJA-THE Senate has begun moves against what it described as reckless spending by state governors, just as it has put in place machinery to ensure that there was proper utilization of loans collected by respective state governors.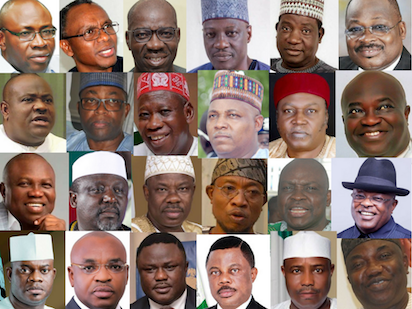 According to the Senate, the action has become imperative against the backdrop that it was really disturbed by complaints from Nigerians over non utilization utilization of foreign loans collected by their respective state governments for projects execution with attendant rising debt profile.
To achieve this, the Senate yesterday met with officials of the World Bank in Nigeria to map out strategies of ensuring proper utilization of loans collected by the state government.
Addressing Journalists yesterday after the meeting, the Senate Leader, Senator Ahmed Lawan, APC, Yobe North who explained that move by the upper chamber was in line with the need for fiscal discipline in public spending, especially on monies borrowed by the affected government in the form of loans to facilitate development, said that it would help prevent backwardness and burdensome debts in the states.
The Senate leader said: " The national assembly participates in a limited way in grantng states loans from international agencies including the wold bank. Normally, the federal government guarantees certain loans to states and therefore the national assembly scrutinises the programmes and projects that are lined for utilisation of those loans and this is our role.
"In ensuring proper utilization of such loans by respective States government, we have met with world bank officials.We have given our honest advice to them on how to bring about fiscal discipline by states goverment on such loans.
"One of which is to ensure that state Houses of Assembly Committees like that of appropriations public accouts committee and the one on finance are given some kind of support by the world bank to ensure that they have the capacity to scrutinise and oversight the utilisation of such funds.
" Also, the office of the auditor general for every state should be enhanced and the capacity of such staff of the offices of the auditor general must be better so that they write very credible and deep reports of such utilisation of funds and of course those who will be implimenting the projects, those who will be spending the money in the offices of the commissioners of finance, budget and planning and so on should also be supported and reformed".
Senator Lawan who noted that the deliberations were very fruitful and strategic in preventing reckless spending of such funds by state governors, said however that that debt profile of States that had collected such loans were not discussed at the meeting as to know whether any of them had surpassed its financial capability for such loans for now.
The Senate leader said that Senate and by extension, the National Assembly will resume unfailingly next week Tuesday.