By Blessing Oyakhire
Governor Nyesom Wike of Rivers State has said the fight against corruption "must be holistic and it should not be vindictive."
Governor Wike spoke during a courtesy visit by the Primate of Anglican Church, Most Reverend Nicholas Okoh, accompanied by Archbishops and Bishops of the church at the Government House, Port Harcourt, yesterday.
He said: "The fight against corruption must be holistic and not be vindictive in nature.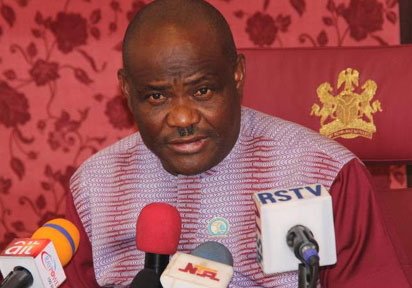 "Those of us who are privileged to serve should know that it is by the Grace of God that we serve. Therefore, we must serve to the Glory of God."
He thanked the Church for scheduling the General Synod in Rivers State as the Archbishops and Bishops will see the works of the administration.
Earlier, the Primate of Anglican Church, Most Reverend Okoh, encouraged Governor Wike to maintain the tempo of his development strides in the state.
He said the theme of the Synod in Port Harcourt is Thou Shalt Not Steal, noting that the emphasis of the Anglican Church is to encourage sacrificial living, righteousness and the good of the society.
He added: "The Church believes in one Nigeria. We advocate that everything should be done to ensure there is peace."