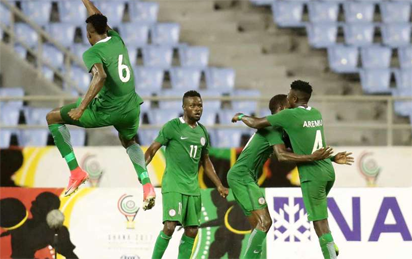 WAFU Eagles
Super Eagles up      and coming midfielder, Mikel Agu said the team was banking on supporters to unnerve Zambia's Chipolopolo when both teams clash in their FIFA 2018 World Cup qualifiers next weekend in Uyo.
Agu, who submitted that the Super Eagles have the players and the tactics to beat the Zambians, said that not withstanding, the team will not leave anything to chance. He called on the team's supporters to turn up the heat as the players battle the Chipolopolos.
"The fans have been amazing I must say, but we urge them not to relent when we play Zambia, because they will be the 12th player on the pitch for the Super Eagles and cheer us to a resounding victory.
Agu, who spoke exclusively with AOIFootball.com from his base in Turkey, said the Eagles are a far better team than the Zambians and will fly over them with ease.
"The Zambians are no threat to us because we have the players and tactical edge over them. We beat them at their own back yard last year, so I see no reason why we can't beat them in Uyo too.
"We know the match will be a tough one and we won't underrate the Zambians; we saw what they did to Algeria last month and we are fully prepared for what ever antics they try to deploy," Agu said.
The on-loan Porto player, who was one of the 23 invitees by Coach Gernot Rohr for the clash against Zambia, also praised the Franco-German Coach, Gernot Rohr for believing in his ability and sticking with almost the same team that beat Cameroon last month.