By Gabriel Ewepu
ABUJA – THE Federal Government on Wednesday, wooed investors with nickel discovery in the country and tax holiday at the opening session of the Africa Down Under (ADU) Conference in Perth, Australia.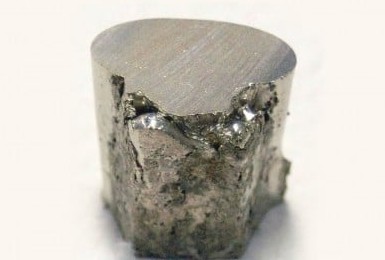 This was contained in a statement signed by the Special Adviser on Media to the Minister of Mines and Steel Development, Olayinka Oyebode.
According to the statement the Minister of Mines and Steel Development, Dr Kayode Fayemi, made this known to potential investors during his presentation titled, 'Mining for Shared Prosperity: Why Nigeria, Why Now', which he maintained that government would support the nickel project and other investors to move from resource find to exploration and processing.
According to him the nickel discovery could be a 'game changer' for the economy, investors and host community if properly managed following government's move to diversify the economy and create wealth and jobs for the people.
He also said the nickel deposit, reputed to be of high grade and a 'rare find' covers about 20 kilometer square in Dagoma village in Southern Kaduna, has been secured by the government to ensure successful exploitation of the mineral by investors.
Nickel-containing materials play a major role in everyday life, which include food preparation equipment, mobile phones, medical equipment, transport, buildings, power generation, and others.
Confirming discovery of the mineral in Nigeria, Director of Comet Minerals Limited, Hugh Morgan, attested to it during his presentation, and disclosed that his company has started engaging the host community, including a drawn land ownership map of the areas covered by the nickel deposit.
Also to inform participants at the conference the statement said a Geology Professor, Lousia Lawrence, confirmed that a lot of work had gone into authenticating the high quality nickel deposit and added that exploration and exploitation of nickel deposit in Nigeria could become a 'game changer'.
Meanwhile, the Minister has outlined various government incentives for potential investors including renewable tax holidays, duty waiver on imported mining equipment, 100 per cent ownership of business concern, among others.
"You need the cooperation of the host communities as well as the state governments. Even when our constitution allows the Federal Government to issue you license, you need the understanding and cooperation of the state government and the host communities whose environment you are going to work.
"The host communities should have a stake in your investment. Once that is done, they would see themselves as part- owners and would ensure none sabotage your efforts. This, we have learnt through experience", he added.
However, he said that government would insist on best practices with emphasis on enforcement of law and order.
He also assured them of government's efforts to tackle the menace of illegal mining as formalisation of their activities was ongoing in order to solve the problem.