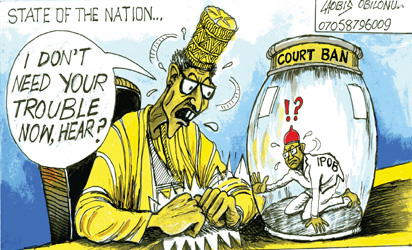 IPOB cartoon
•Says US position on IPOB unfortunate, unacceptable
By Clifford Ndujihe (With agency report)
ABUJA – THE Federal Govern-ment, yesterday, disa-greed with the United States of America on the status of the Indigenous People of Biafra, IPOB.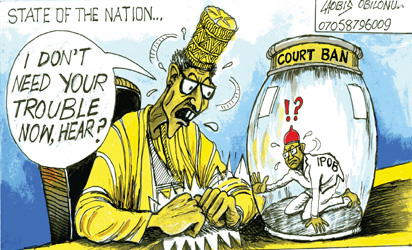 It described as "unfortunate" and "unacceptable" the position of the US government over Nigeria's declaration of the organisation as a terrorist group.
The Federal Government had earlier been ensnared in a face-off with France over funding of IPOB and the United Kingdom, over the operation of Radio Biafra.
Minister of Information and Culture, Alhaji Lai Mohammed, faulted the US position,  Wednesday night in London, when he featured on BBC Television programme, "Focus on Africa."
The minister, who stressed that the Federal Government was right in declaring IPOB a terrorist organisation, picked holes in the US position.
"It is very unfortunate, if countries decide to pick and choose which organisations are terrorists and which are not, bearing in mind that terrorism has no boundary.
"I think what we should do is that every country should work together to ensure that terrorism does not thrive," he said.
US, EU's stance on IPOB
Last week, spokesman of  American Embassy in Nigeria, Russell Brooks, in a response to a question by a journalist, said IPOB was not seen under US laws as a terrorist organisation but assured that the US government was committed to Nigeria's unity and would support a peaceful resolution of any crisis in the country.
"The United States government is strongly committed to Nigeria's unity. Important political and economic issues affecting the Nigerian people, such as the allocation of resources, are worthwhile topics for respectful debate in a democracy.
"Within the context of unity, we encourage all Nigerians to support a de-escalation of tensions and peaceful resolution of grievances. The Indigenous People of Biafra is not a terrorist organisation under US law," he said.
Earlier, President of the EU Commission, Mr. Jean-Claude Junker, had on September 17 before the Federal Government formalised the proscription of IPOB via the Federal High Court, rejected the classification of IPOB as a terrorist organisation by the Nigerian Armed Forces.
He warned Nigerian security personnel against what he described as their ill-hearted and unprofessional handling of democratic issues and the rights of the people.
"It is the people's right to agitate and make a request from their government; self-determination is a right enshrined in the United NationS Charter. The people of Biafra have every right to request for a referendum, they have been in this struggle for a while now, they have never killed or shot a bullet, instead, they are the victims of attacks and murder.
"The entire EU, hereby, condemns the brutal attack on IPOB members and leadership under the pretentious disguise of a military exercise (Operation Python Dance II). The Nigerian military is warned to adopt democratic tenets in handling citizens. The EU will not sit and watch things go undemocratic in the largest economy of the West African region."
FG's spat with France
Apart from the US, the Federal Government also on September 21, had a spat with France and the United Kingdom over the funding of IPOB and operation of Radio Biafra.
It accused the United Kingdom of doing very little about its complaint that Biafra Radio was broadcasting from its territory and said the bulk of IPOB's funding from its diaspora supporters is sent through France.
Information Minister, Lai Mohammed, stated this after the Federal Executive Council, FEC, meeting.  "Let me tell you, the financial headquarters is in France, it is incontrovertible that some people in the diaspora contribute money to IPOB.
"We know this as a fact. Again, there are a few knotty diplomatic issues which you need to skip. For instance, who does not know that the IPOB internal radio is located in London? We know the diplomatic moves we have been taking and approaching the UK, all the damage it has done; but they don't see it that way. For them, it is about freedom of expression.
"If we have a person in Nigeria openly soliciting arms to come and fight the UK, what would you think of it? Would you consider that freedom of expression? And this is a country that also has had a history; what did the Irish Republican Army (IRA) do to be labelled a terrorist organisation? They were planting bombs, they were fighting the British army," he said.
Why we labelled IPOB as a terrorist group — FG
On why the Federal Government labelled IPOB a terrorist group, the Information Minister said: "The acts and utterances of IPOB were acts and utterances of terrorists. For instance, Nnamdi Kanu, the IPOB leader was caught on tape saying that they want Biafra and not peacefully, but by force.
"He declared that if they do not get Biafra, Somalia will be a paradise with the kind of mayhem they will unleash on Nigeria. The group openly embraced arms and ammunition and the leader set up Biafra National Guard, Biafra Secret Service and openly attacked army formations."
Asked by the anchor of the programme, Peter Okwoche, why "other militarised groups" like the Fulani herdsmen had not been classified as terrorist group, Mohammed said that "acts of criminality should not be confused with terrorism acts."
He explained further: "When an organisation decides to not just attack the Army but set up its own parallel government; when an organisation openly solicits for arms all over the world; when an organisation starts issuing out its own passports and currency and does not recognise the democratically elected government, then it becomes a different thing."
The minister said Nigeria was so fragile, adding that an attempt to allow such excesses from IPOB to continue could attract reprisal attacks from other parts of the country and set the entire nation on fire.
President-General of the Ohanaeze Ndigbo, Chief John Nwodo, who was earlier interviewed on the programme, said labelling IPOB as a terrorist group was "extremely unfair and lopsided."