By Luminous Jannamike
ABUJA – Some FCT residents have expressed divergent views over the report by the National Bureau of Statistics (NBS) which states that Nigeria's economy exited recession by 0.55 per cent during the second quarter (Q2) of the year.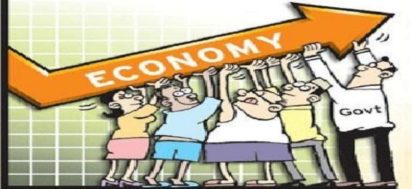 Some of the residents in separate interviews with Vanguard on Thursday expressed their delight while others alleged the NBS report was a hoax.
The Nigerian economy contracted for five successive quarters beginning from the first quarter of 2016. However, the exit from recession albeit marginal is attributable to both the oil and non-oil sectors of the economy. .
Deji Adeyanju, a political activist, told Vanguard that the NBS report could be a hoax and should not be totally believed; saying that Nigerians should have started feeling the impact by September since June marked the end of Q2 in 2017.
He noted that prices of essential commodities are still high and the inflation rate has also not declined; stressing that the market only understands the laws of supply and demand.
"The NBS report is what I refer to a statement borne out of voodoo economics. The market only understands the forces of demand and supply. If the prices of goods in the market are still high and the inflation rate has not declined, it simply means that we have not produced enough to go round. The GDP cannot then be said to have improved. So we cannot be celebrating an exit from recession.'' he said.
Another resident, Austin Okai Usman, said the NBS report was mere diversionary without any real substance behind it.
"Nigerians know the APC-led federal government for propaganda. This is another ploy to divert attention from the news of the President Buhari inability to hold another FEC meeting.
"Nigeria's economy is still very much in recession and it is biting even harder by the day. The NBS mere rolled out figure pre-determined by the government of the day," he said.
However, Michael Agbaje, a Polytechnic lecture, said the recent NBS report was a welcome development that would restore investor confidence in the Nigerian economy.
He said that the administration of President Muhammadu Buhari should remain dogged and resolute in the implementation of the Economic Recovery and Growth Plan (ERGP); adding that the ERGP was a masterpiece blueprint for any economy that is serious about diversifying away from oil.
"The news of Nigeria's exit from recession is a welcome development, this will also serve as a means of restoring the confidence of foreign investor in our economy.'' he said.
On his part, Charles Ude, a lawyer, said: "the NBS report was a good development but cautioned that it is too early celebrate.
"The question is what has changed? The general public must feel the impact of the exit from recession," he added.