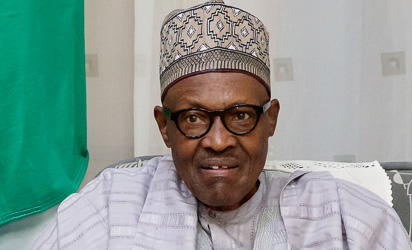 President Buhari
By Henry Boyo
BENJAMIN Mkapa, Tanzania's former President, has warned Nigeria to resist pressure to sign the Economic Partnership Agreement, (EPA), with the European Union, because according to him, such contracts are counterproductive. Mkapa sounded this warning as guest speaker at the 45th Annual general Meeting of the Manufacturers Association of Nigeria (MAN) on September 14, 2017 in Lagos.
The former president noted, in a post event interview, with the media, "that such agreements are not in line with the aspirations of African countries." Consequently, Mkapa encouraged African countries to "undertake some degree of industrialization, to add value to their agricultural and primary products and natural resources and ultimately increase government revenue."
Incidentally, Thambo Mbeki, South Africa's former president, had sounded the same warning, as guest speaker, at MAN's Annual General Meeting, two years ago. The above title was first published on October 13, 2014; a summary of that article follows hereafter, please read on.
"Under the terms of the EPA, "the European Union will immediately offer the 15 member, Economic Community of West African States, full access to it markets. In return, ECOWAS will gradually open up 75 per cent of its markets, with its 300 million consumers, to the European Union over a 20-year period. Furthermore, the EU would also offer a package valued at about EU6.5bn ($8.94bn) over the next five years, to help ECOWAS countries, cushion the effects and costs of integrating into the global economy (see "F.G. seeks review of economic partnership agreements" – Punch Newspaper of 1/9/14, Pg. 36).
Nonetheless, MAN sees the EU's appetising carrot as a dagger directed at the heart of Nigeria's industrial sector. The Association has, therefore, warned that signing the agreement in its present form, would impact negatively on local manufacturing and result in shutdown of industries with heavy job losses, because of the unfair competition that will evolve. The immediate past President of MAN, Chief Kola Jamodu, also noted that, "no country can develop without protecting its industries", and therefore cautioned that "Nigeria stands the risk of having its market flooded by European goods with a resultant negative effect, on local industries and the economy, if the EPA is approved in its present form."
The Minister of State for Finance, Ambassador Bashir Yuguda has also echoed the above concerns at an earlier interaction with MAN, when he stated that "government is actively encouraging the African Union and ECOWAS to reconsider endorsing the EPA in its current state." Yuguda declared that "the government is critically assessing options that will improve competitiveness and ensure that local manufacturers are adequately protected; consequently, the Federal government was "negotiating a strong Common External Tariff agreement with its ECOWAS partners to protect strategic industries".
Nonetheless, proponents of  EPA argue that the objective of ECOWAS Common External Tariff  (CET) is to "build bridges of development, investment and trade cooperation between members of the Community and also between ECOWAS as a trade block and other such regional or third party trade and economic Union; furthermore, the Pro-EPA lobby are optimistic that the operation of the Common External Tariff, would create a level playing field for imports into our sub-region and thereby significantly reduce the spectre of smuggling and re-export of third party imports into Nigeria, became of more favourable duty differentials of our neighbours. It is also speculated "that the product of CET will be reflected in reduction of import duty leakages and contraction of opportunities for bribery and corruption at our ports."
Nonetheless, despite the listed benefits, MAN remains, clearly uncomfortable with the adopted classifications of customs duties under the CET; for example, essential social commodities including pharmaceuticals, books, newspapers, etc attract zero percent duty; basic goods and raw materials attract five per cent, while intermediate goods attract 10 per cent; furthermore, finished consumer goods attract 20 per cent duty, while an additional tariff band of 35 per cent was created for those goods currently under Nigeria's Absolute Import Prohibition List.
Nonetheless, the Association of Manufacturers, recognize the difficulty in appropriately evaluating these categorizations, because of the fairly loose class definitions adopted. For example, Nigeria has a growing pharmaceutical sub-sector which could become uncompetitive with zero percent tariff for drugs and medicaments imports from countries with lower cost of borrowing and superior supportive infrastructure.
Furthermore, MAN is equally concerned that food and agricultural imports from such better endowed competitors may also reduce our chances of success in our attempts to be self-sufficient, in rice and maize production, for example.
Additionally, the manufacturing community noted that although the tariff rate for raw materials and production machinery has been set at five per cent, it would probably be more appropriate for these set of imports, for which there are no potential local substitutes, to also attract zero percent duty, as this would further reduce production cost and cushion the adverse impact of high cost of funds and power on made in Nigeria products."
Similarly, manufacturers expect that it will be challenging to, finely compartmentalize imports under the 10 per cent and 20 per cent tariff classifications, as what may appear, for example, as an intermediate product could well be a finished product; for example, an automobile tyre maybe considered as an intermediate good by a vehicle assembly plant, but for the car owner, it is clearly a finished product and vice versa.
Presumably, the goods under Nigeria's current import prohibition list may form the bulk of items under  the highest  duty category of 35 per cent, since the 45 currently listed items under prohibition comprise sectors in which Nigerian manufacturers already have a foothold with the possibility of further growth that would  positively impact employment and ultimately on government revenue.
Nigeria's manufacturers are obviously unimpressed by the promised EU package of about $9bn to the 15 members of ECOWAS, over a five year period, as MAN estimates that the Nigerian Treasury could lose over $1.3tn revenue from a significant reduction in import duties, if the EPA is also endorsed in its present state.
In addition, MAN's opposition to EPA is also premised on the reality that our different levels of economic strength and industrialisation would put Nigeria and other ECOWAS members, at a trade disadvantage, in a manner that is sadly reminiscent of the one sided terms of the slave trade era.
The above, notwithstanding, Economic and industrial growth are in reality the products of the leadership's abiding vision and the application of appropriate monetary and fiscal frameworks that accommodate lower single digit interest rates, low inflationary rate, appropriately priced, stable and sustainable exchange rate regime with supportive social and industrial technology and infrastructure. Regrettably, these features have remained alien to the Nigerian economy and invariably negate the expected benefits of the ECOWAS Common External Tariff.
Save the Naira, Save Nigerians!!