By Ikechukwu Nnochiri
ABUJA—bickering between two lawyers that were engaged by the Senate President, Dr. Bukola Saraki, yesterday, stalled hearing in the application seeking to consolidate on Ibrahim Magu's headship of Economic and Financial Crimes Commission, EFCC.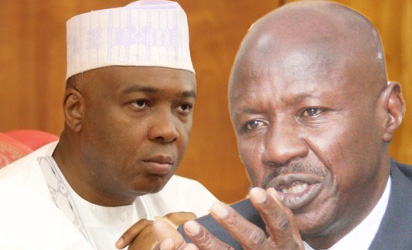 The suit before a Federal High Court in Abuja by Mr. Jubril Okutekpa (SAN), came up for hearing before Justice Gabriel Kolawole.
It is seeking to invalidate Senate's rejection of Magu's nomination as substantive Chairman of EFCC by President Muhammadu Buhari.
Okutekpa, in the suit is challenging the powers of the National Assembly under the 1999 Constitution to confirm appointments of heads of EFCC and the Independent Corrupt Practices Commission, ICPC, is praying the court to set aside, strike down or nullify Section 2(3) of the EFCC Act and Section 3(6) of the ICPC Act, and to declare it null and void and altogether invalid, ultra vires and inoperative having regards to the provisions of Sub-section 1(1) and (3) of the 1999 Constitution, read together with Section 171(1) (2) of the 1999 Constitution, as amended.
Other defendants in the suit are President Buhari, the Attorney General of the Federation, the National Assembly, the President of the Senate and the Senate.
When the suit was called up, two lawyers, Mr. S. Alhassan and Mr. Peter Abang, told the court that they were separately briefed to represent Saraki and the Senate in the matter.
While Alhassan tendered an engagement letter that was issued to his law firm in June, his counterpart presented another letter that briefed his law firm in August to handle the case.
Owing to the development, Justice Kolawole adjourned hearing on the suit, even as he directed both lawyers to go back and sort out the conflicting briefs before the next adjourned date.
The case was adjourned on a day the court was informed that there are about 17 different suits pertaining to the propriety or otherwise of Magu remaining in office as Acting Chairman of EFCC, despite his rejection by the Senate.
Whereas some of the cases are pending before the court in Abuja, others were said to have been filed in both the Yola and Kano Divisions of the high court.
While some of the 17 suits are seeking Magu's removal, some of them are seeking his continued stay in office as EFCC boss.
A lawyer from the Ministry of Justice, Mr. Musa Abdul, told the court that the AGF had already written a letter to the acting Chief Judge of the Federal High Court, Justice Abdul Kafarati, seeking for a consolidation of all the 17 suits for hearing.
The AGF based his request on the need to avoid a situation where different judges of the court would give conflicting judgments on the issue.
Consequently, Justice Kolawole adjourned the instant suit till November 1, to await the decision of the consolidation.