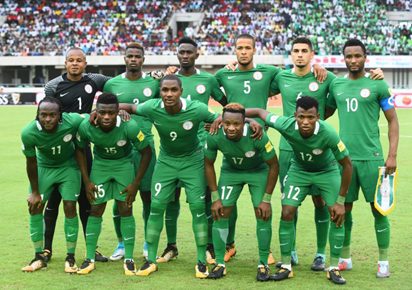 Nigeria national football team players pose prior to the 2018 FIFA World Cup qualifying football match between Nigeria and Cameroon at Godswill Akpabio International Stadium in Uyo, southern Nigeria, on September 1, 2017. / AFP PHOTO
By Jacob Ajom
Nigeria will either wrap up her quest for a ticket to next year's FIFA World Cup in Russia today or allow Cameroon delay what looks like an inevitability. The Super Eagles 4-0 victory over the Cameroon Lions in Uyo Friday was, according to Odion Ighalo, Eagles' first goal scorer in that match, "a significant step" towards securing the ticket.
Today's match therefore has a lot of meaning to the Eagles than their hosts who have no chance of dreaming Russia any longer. With Zambia taking over the second spot in Group B, after their 3-1 victory over Algeria on Saturday, Cameroon's chances have further been dampened. Cameroon coach, Hugo Broos who guided the team to AFCON glory early this year, has since thrown in the towel. He told the world in Uyo that today's match in Yaounde hold little, if any, significance to Cameroon.
"We have no chance," Broos admitted after the Uyo debacle, saying the Eagles were clear favourites.
But his Nigerian counterpart, Gernot Rohr sees things differently. "We are not yet there(in Russia). We must be humble because there is still a lot to play for," he cautioned.
His players are too aware of the danger in taking things for granted. Wilfred Ndidi said, "it will not be an easy game because having lost the first leg so badly, they will go and look at where they got it wrong and correct their mistakes to avoid a second successive defeat from us."
He said the Eagles can't be intimidated no matter the antics the Lions and their fans employ against them. "With the same team, same players, they cannot intimidate us."
Odion Ighalo re-echoed, "we are going to play as if we lost the first leg. We want to win and seal our World Cup ticket because I want to be in the senior World Cup"
Ola Aina, the new boy who has been cleared by FIFA to play for Nigeria said, "we are going to adopt the same approach and try to dominate them. We want the three points."