By Franklin Alli
DANGOTE Sugar Refinery Plc has given insights into why the company is not manufacturing cube sugar despite having invested over N400 billion in backward integration projects in the sugar sector.
In an exclusive chat with Vanguard, the company's Acting Group Managing Director, Abdullahi Sule, said: "We are more interested in large volume business. That is why we are not in that market. However, we have partners in the cube business that buy granulated sugar from us and cube them. So, there are small companies that are doing that, and when you ask them, they will tell you clearly that it does not require a big amount of money."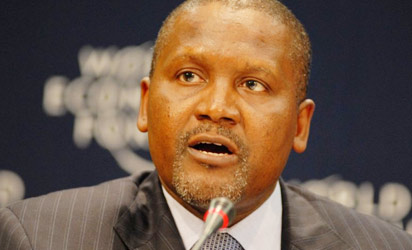 According to him, the cube sugar business in Nigeria is actually a small business segment as the volume is not more than 250,000 metric tonnes. "Even when St. Louis was allowed to bring its sugar into Nigeria, the maximum they were able to bring was about 200,000 metric tonnes out of the 1.5 million metric tonnes of sugar consumed in Nigeria. So, the total cube sugar market in Nigeria is not more than 250,000 metric tonnes because even when St. Louis was bringing, there are one or two local companies that were also making their own cubes. So, if you look at the total of what is consumed as cube sugar in Nigeria, it is not more than 250, 000 metric tonnes maximum in the country," he said.
The company has so far invested over N400 billion in sugar backward integration projects under the Nigeria Sugar Master Plan ((NSMP) being implemented by the National Sugar Development Council, to make the country self-sufficient in sugar production.
A breakdown of the figure showed that the group is spending $450 million (about N166 billion) in an integrated sugar project in Niger State; a  $700 million (about N217 billion) sugar project in Nasarawa state; and over N38 billion invested in Savannah Sugar Company Limited, it acquired from the Federal Government in 2003.
Subscribe for latest Videos