By Ola Ajayi
Ibadan—Chief Mukaila Balogun, the Osi-Balogun Afijagba in Oyo State, says the recent elevation and crowning of 21 high chiefs and baales as kings will boost the status of the Olubadan stool.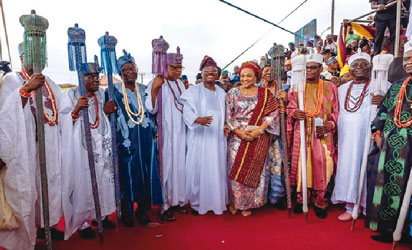 Balogun said in Ibadan that the development would not desecrate the Olubadan stool as some people believe but enhance its status.
"The elevation should be a thing of joy for all Ibadan indigenes because we have been yawning for long for the review of the 1957 Olubadan Chieftaincy Declaration.
"In the past, three governors had tried to carry out the review but could not succeed and history has been made as regards successful review of the Olubadan Chieftaincy System that paved way for the installation of 21 new kings in Ibadan land.
"All these kings are under His Imperial Majesty, Olubadan of Ibadan land, Oba Saliu Adetunji, so there is nothing like relegation in the position of Olubadan.
"Even those who opposed the elevation of the 21 high chiefs and baales knew that government action was in order but were politicising the issue," he said.
Balogun implored those opposed to the elevation to have a rethink and support Governor Abiola Ajumobi in bringing rapid development to Ibadan land.
Meantime, the division within the Olubadan-in-Council over the coronation of 21 kings in Ibadanland has also crept into the circle of Mogajis(family heads) as two factions, Ibadan Council of Recognized Magajis and Authentic Mogajis claimed authenticity.
While Authentic Mogajis who the other factin claimed are four in number support the Olubadan of Ibadanland, His Imperial Majesty, Oba Saliu Adetunji, who is opposed to the coronation of the kings, the other group which has numerical superiority is in support of the Oyo State Governor, Senator Abiola Ajimobi who installed the kings with the support of nine out of 11 members in the Olubadan-in-Council.
The smaller group of Mogajis are in court challenging the review in court and eventual installation of the kings questioning the elevation of baales above them.