By Omeiza Ajayi
ABUJA – The Federal Government has declared 
Monday
, October, 2 Public Holiday to commemorate Nigeria's 57th Independence Anniversary.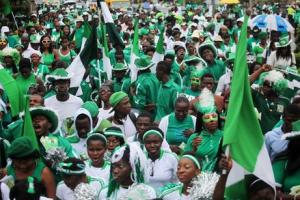 The declaration was contained in a statement issued 
Thursday
 in Abuja and signed by the Permanent Secretary in the Ministry of Interior, Abubakar Magaji.
According to the statement, "the Minister of Interior, Lt Gen. Abdulrahman Bello Dambazau (Rtd), who made the declaration on behalf of the Federal Government, congratulated Nigerians on the anniversary and urged them to sustain the collective efforts towards maintaining and strengthening the unity of Nigeria.
"Gen. Dambazau emphasized Government's commitment to promoting national unity, economic growth and political development on democratic principles. He noted that in the past 57 years, Nigeria has made a lot of progress and positive impact not only on its citizens but also on human development globally".
Dambazau enjoined Nigerians to remain steadfast in the love and care of the country, noting that strong sense of ownership of one's country is vital to the sustainable development of any nation.
"He also expressed profound appreciation to Nigerians and their international community for the support and co-operation to the current administration.