Men of the Nigerian army, Tuesday,  allegedly invaded the Abia State Headquarters of the Nigerian Union of Journalists.
However, the true development, Vanguard learnt, is that the soldiers were only passing by and conducting their 'operation show of force'exercise in line with the Operation Python Dance II the army headquarters declared it has launched in the South-East states to curb kidnapping, violent agitation and some other crimes.
But some reports said the soldiers attacked the NUJ office in Umuahia, Abia state where some office gadgets such as phones, iPads, tablets and other office documents were destroyed by the soldiers.
An account by one online user with the name, Double Sword, claimed some of d journalists were at the balcony, viewing the city centre when they heard the siren of some vehicles coming.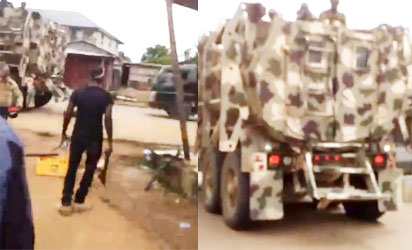 According to it, "the convoy happened to be that of the military, being led by an APC (Armoured Personnel Carrier), who suddenly stopped and started shouting, "look at the journalists, they are there. Look at this one, he is at the window. You journalists,you journalists!!!"
It said over 50 soldiers surrounded the NUJ's building with their guns aimed at the journalists.
"When they climbed up, they cocked their guns and pointed at all they saw at the Press Centre, stating that they were being filmed and photographed, but which was not true."
"The over 20 military personnel who came upstairs, had their guns pointed at each and every journalist at the centre, ordering them to bring out their phones and started their wanton destruction of all working tools they saw, including all phones they used for work."
"Initially, they had ordered the journalists to march down until one of the soldiers (believed to be a senior ranking officer) came up and asked them to leave the journalists, the source claimed."
The source also claimed that an NUJ National Trustee, Bonny Okoro was manhandled whie his iPad was equally destroyed.  It said the soldiers threw other phones to the wall several times, "used their boots to smash them and eventually used the nuzzle to finish the phone, including all working tools present."
The source also claimed  the Army PRO, Maj. Gbadamosi, the Deputy Governor of Abia State and the Abia CP, Adeleye Oyebade have been informed of the development.
In a similar development, the soldiers were equally reported to have surrounded the home of the leader of the Indigenous People of Biafra, IPOB, Mazi Nnamdi Kanu with some Armoured Personnel Carriers.
A video circulating on social media captures the troop numbering over 20 at least with their armourd tankers and some other military vehicles parading Kanu's area while some IPOB youths barricaded the street leading to Kanu's house in protest.
Ultimately, no life has been reported lost so far.
Details soon…