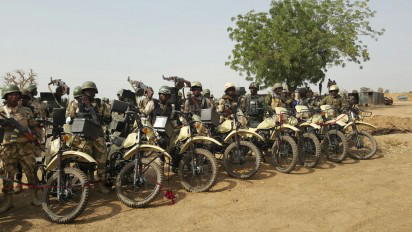 Army Inducts Combat Motorbike Operation Against Terrorists
The Nigerian Army has said that some suspected Boko Haram bicycle-riding terrorists were on Monday killed by Mobile Strike Teams (MSTs) 21 during an ambush along Firgi- Banki Junction road, Borno State.

According to Brigadier General Sani Kukasheka Usman, Director Army Public Relations he said the troops of Mobile Strike Teams (MSTs) 21, on operation LAFIYA DOLE, deployed within the 21 Brigade Nigerian Army Area of Operations, at the early hours Monday 4th September, laid a successful ambush on a suspected Boko Haram terrorists crossing point along Firgi- Banki Junction road, Borno State.
The Troops neutralized a large number of the Boko Haram terrorists, while other terrorists sustained gun shot wounds.
Usman said the troops recovered the following items from the terrorists; 18 Bicycles, 15 Bags of grains, 17 Gallons of grain, 5 Empty gallons, 6 Cutlasses, a Sword, water bottles and pairs of slippers.
It will be recalled that the Chief of Army Staff, Lieutenant General TY Buratai, through the Theatre Commander, Operation LAFIYA DOLE, Major General Ibrahim Attahiru, recently inaugurated the Mobile Strike Teams (MSTs).
The teams are highly trained and well equipped groups injected into Operation LAFIYA DOLE with the mandate of securing the Main Supply Routes (MSRs) in addition to conducting limited clearance operations.
You are please requested to disseminate this information to the public through your medium.
Thank you for your kind cooperation.