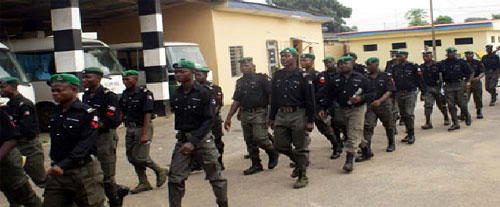 The marching police officers
By Samuel Oyadongha
YENAGOA—BAYELSA State Government has condemned, weekend attack on an oil vessel conveying a team of security personnel and civilians along the creek of Ikebiri in Southern Ijaw Local Government Area of the state.
Two security operatives, (a policeman, civil defence corps) and a civilian on board the vessel were killed by suspected sea pirates during the attack.
The government through its Commissioner for Information and Orientation, Mr Jonathan Obuebite described the attack as criminal sad and unacceptable.
He said, "The reports made available to the government reveals as follows, on September 22, 2017, about 06:45, a Tugboat, towing a Barge with a combined team of policemen from the Nigerian Inland waterways, Nigeria Security and Civil Defence Corp, and civilians onboard were attacked by suspected sea pirates at Ikebiri waterways in Southern Ijaw LGA, Bayelsa was attacked."
He said there was no reason why some persons would still be involved in any form of crime and criminality in the state, in the face of all the transformation that had been initiated by the Seriake Dickson led restoration government.
The commissioner added that with the information at the government disposal, "it is obvious that this was purely an act of criminality, deliberately carried out to rubbish the security and peace efforts of the government by some disgruntled elements operating under the guise of sea pirates."