Politicians aspiring to be governor of Osun state have been asked to stop peddling falsehood and maligning Governor Rauf Aregbesola in order to endear themselves to the electorate.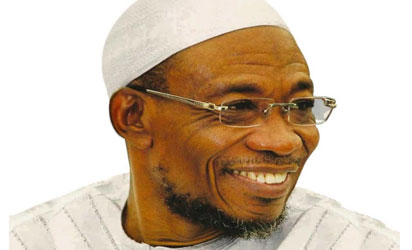 The media Adviser to the governor, Mr. Sola Fasure, in a statement charged aspirants that have now turned overnight critics because they wanted Aregbesola's job to know that the kite will not fly as the people of the state are abreast of what the governor has done for the state.
He held that with the administration of Aregbesola winding off, aspirants want to outdo one another in gunning for the state's top job by promising to perform more than the incumbent if given the opportunity to serve.
The statement noted that such aspirants regrettably but brazenly alter statistics, fabricate figures which are non-existing and justify what ought not to be, all in the name of wanting to give the administration of Aregbesola a bad name in order to hang it.
Fasure said the people of Osun are not forgetful, and that they know, see and feel what Aregbesola did and is still doing in the state.