By Emmanuel Aziken, Political Editor
It has been suggested in some quarters that had Prof. Dora Akunyili overcome the cancer that consumed her, that she would have been a member of the Muhammadu Buhari kitchen cabinet.
The allusion to that is said to flow from her close and chummy working relationship with Buhari. It was a relationship first developed at the Petroleum (Special) Task Force, PTF where Prof. Akunyili worked as Southeast Zonal Secretary, coordinating projects of the agency in the zone. Mrs. Akunyili was said to have won Buhari's confidence on account of her transparency and dedication to duty.
As someone who knew the two of them told this correspondent, there was a time at the agency when some mischievous persons tried to link Akunyili to a missing N1 million. Buhari's response once Akunyili was mentioned was to dismiss inference to her about the missing money.
Despite her working in a People's Democratic Party, PDP government both as director-general of the National Agency for Foods, Drugs Administration and Control, NAFDAC and as a minister, the personal relationship between Mrs. Akunyili and Buhari did not fade.
Even though he dissuaded her, Mrs. Akunyili almost always tried to support his political crusades, albeit surreptitiously.
Akunyili who died in June 2014 before Buhari came to power, is today remembered for her revolutionary strides against the system. After leading the fight that exposed the fake drugs syndicates in the country, Mrs. Akunyili endeared herself to many when she led the revolution in the Yar'adua Federal Executive Council that helped to enthrone Dr. Goodluck Jonathan as acting president in February 2010.
Mrs. Akunyili's daring memo presented in early February 2010 was shocking to many, and especially to those who knew her close relationship with the Yar'adua family.
Mrs. Akunyili's constancy in conscience and character again came to mind this week after Senator Aisha Alhassan openly proclaimed she would support Atiku Abubakar against President Buhari in any political duel.
Mrs. Alhassan's stance reiterated on Thursday after a visit to the Presidential Villa was seen as a great act of courage.
Does that put Alhassan's rebellion at the same level with Akunyili's 2010 revolt against the Yar'adua cabal? Certainly no!
Akunyili moved against the interests of her friend, Turai Yar'adua in the collective interest of the nation which was at that time held in bondage by the Yar'adua cabal.
Alhassan, on the other hand, is projecting the interest of her long time, political benefactor.
Assertions by her associates that she had in the past made attempts to resign from the Buhari administration do not in any way increase her moral quotient if it was simply because of Atiku. However, she will always be defined and applauded for her uncommon principles in a country where many have mortgaged conscience for contracts and contacts.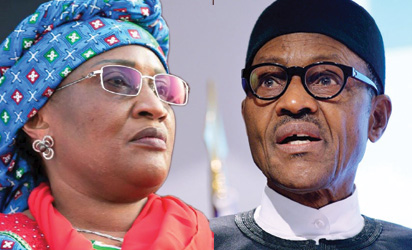 Should Alhassan be sacked, she would not be the first in recent times to be sacked from the cabinet on account of double loyalty.
Despite assertions of President Jonathan's political naivety, he was, however, brutal when it came to political treachery. Inuwa Abdulkadir, his Minister of Youth Development, was sacked after it was alleged that he was loyal to Governor Aliyu Wamakko, one of the five governors who walked out on Jonathan at the PDP convention ground in 2013.
Mallam Bolaji Abdullahi despite his relative successes as Minister of Sports was brusquely sacked on March 5, 2014, three days after he refused to join President Jonathan on the rostrum in Ilorin to denounce his (Abdullahi's) political godfather, Senator Abubakar Saraki who was part of the rebellion against Jonathan at the PDP convention ground in 2013.
Today, Abdulkadir is the national vice-chairman (Northwest) of the All Progressives Congress, APC while Abdullahi is the party's national spokesman.
Alhassan has as well said her mind. Eyes are now on her watching when (not if) she is sacked whether history would reckon with her in a future government as Abdulkadir and Abdullahi have been so blessed with the fruit of rebellion.