Lagos – Mr Aigboje Aig-Imoukhuede on Monday bowed out as the President, National Council of the Nigerian Stock Exchange (NSE) after serving for three years.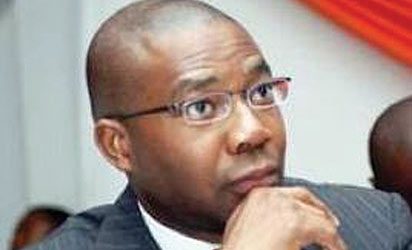 Aig-Imoukhuede officially announced his retirement at the NSE 56th Annual General Meeting (AGM) in Lagos for the financial year ended December 31, 2016.
He commended the dealing member community for supporting its demutualisation efforts.
Demutualisation is when a mutual company owned by its users/members converts into a company owned by shareholders.
The users/members exchange their rights of use for shares in the demutualised company.
He assured members that the National Council and the management of the exchange would remain committed to the demutualisation exercise.
Aig-Imoukhuede said that he was also grateful for the support of the dealing members and the NSE throughout his tenure at the exchange.
He said the council members contributed immensely to the growth of the capital market and the economy in general and charged the new council members to toe the same line.
Commenting on NSE result, Aig-Imoukhede, said that in spite of the economic headwinds in 2016, the Group level of the NSE remained profitable with an operating surplus of N27.45 million.
He added that the exchange generated revenue of N4.46 billion, down 31 per cent from the previous year, reflecting bearish sentiments prevalent in the market in 2016.
"The council greatest focus of transforming the exchange to a publicly quoted company has been done and only 20 per cent is yet to be accomplished.
"Against all odds, completion of the demutualisation process of the NSE will take only about 12 months.
"In 2016, we executed our strategy and maintained a stable financial position by controlling costs and maintaining a low debt profile," Aig-Imoukhuede said.
Earlier, Mr Oscar Onyema, the Chief Executive Officer of NSE, said the Exchange demonstrated resilience through the economic and market downturn as investors reacted to prolonged macro-economic uncertainty.
Onyema said that the exchange total assets base during the period stood at N22.79 billion with approximately N9.73 billion, representing 43 per cent, held in liquid assets and an accumulated fund of N19.31 billion.
He added that the NSE closed the year in a sound liquidity position and strong balance sheet.
"The Exchange has delivered strong and broad-based results which strengthen our foundation for long-term prosperity, and will drive growth in the near-term.
"We will continue to adapt to stakeholder needs in the evolving business climate.
"We will continue to develop innovative and diverse products that perform well in different market conditions, while maintaining a regulatory framework that engenders confident investors," Onyema said.
Alhaji Aluko Dangote, Ex-Official, Malam Ballama Manu, Interim Head of Council, were among the outgoing NSE council members.
NAN also reports that Mr Abimbola Ogunbanjo, who was re-elected at the meeting as a member of the National Council, would likely emerge as the next NSE President going by exchange's tradition.