By Sam Eyoboka
CATHOLIC Laity Council of Ahiara Mbaise yesterday restated its resolve to reject the appointment of Bishop Peter Okpaleke but commended Pope Francis concern for its members.
Trouble started in 2012 when Pope Benedict XVI appointed Okpaleke from Amesi in Aguata local government area of Anambra State to succeed pioneer Bishop Anthony Adibe Chikwe who hailed from Ezinitte Mbaise Council, but the indigenes rejected the appointment, insisting on an indigene of the area.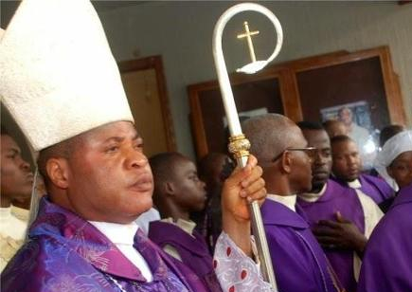 The situation lingered till June 9, 2017 when the Catholic Pontiff summoned the parties to the dispute to Rome at the end of which the Pope gave the protesting priests 30 days to write a letter of apology  and accept Okpaleke or risk suspension from the church.
That ultimatum expired on July 9 when the battle shifted to the Laity as youths had effectively prevented the Bishop from assuming office in Ahiara Diocese.
After a meeting on Friday, the Laity Council issued a statement, saying it had not accepted Okpaleke as Bishop.
The letter, signed by the President of Ahiara Diocesan Laity Council, Sir (Chief) Gerald Anyanwu, and  Secretary, R. Lawrence U. N. Opara and six others, said: "We restate our stand that we bluntly reject Bishop Peter Okpaleke and he has no place in Ahiara Diocese."
The council said the authors of the publication claiming they had accepted Okpaleke as Bishop were  impostors and could not be the representatives of the Catholic Lay Faithful of Ahiara Diocese.