…He's frustrated within APC— Junaid
By Emmanuel Aziken, Clifford Ndujihe, Dapo Akinrefon, Charles Kumolu & Gbenga Oke
LAGOS—Strong support for Asiwaju Bola Tinubu's call for restructuring came from across the geopolitical divide, yesterday, with friends and foes saying his endorsement for power shift from the federal level to states had made the issue imperative.
Political associates and rivals of the former governor of Lagos State and leader of the ruling All Progressives Congress, APC, welcomed his call, urging that attention be given to actualising the demand.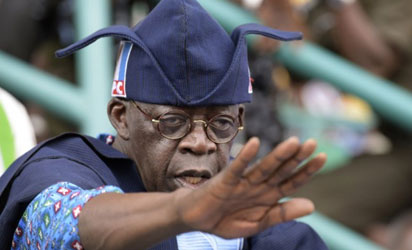 The only exception, yesterday, was from fiery Northern critic, Dr. Junaid Mohammed, who insisted that he remained against restructuring, saying Tinubu's stance was a product of his frustration in the APC  and asked that restructuring should start from within the APC.
Support for Senator Tinubu, however, came from Afenifere chieftain, Chief Ayo Adebanjo; Afenifere scribe, Yinka Odumakin; Secretary of Eastern Consultative Assembly, Evangelist Elliot Uko; former presidential aide, Akin Oshuntokun; and national president of a faction of Ijaw Youth Council, Eric Omare.
Tinubu had in a keynote address to the Kings College Old Boys Association, KCOBA at the weekend, asserted that true federalism was the way to go.
Elder-statesman, Chief Adebanjo said:  "It is a welcome relief; he has no choice. However long it takes for one to convert, we thank God. He is welcome to the camp of those who do not want Nigeria to break.
Afenifere National Publicity Secretary, Yinka Odumakin, said: ''We welcome his voice being added in the clamour for restructuring and coming soon after the Ibadan Summit, where the entire Yoruba people voted for restructuring and return to true federalism, his lining up with the Yoruba position is a good development."
Mr. Osuntokun, Political Adviser in the Olusegun Obasanjo administration, said: "He has been able to capture the essence of the argument and provide a context that uniquely clarifies the debate. And given his political weight, it goes a long way to advance the restructuring advocacy as a neutral agenda."
Evangelist Uko, Secretary of ECA, on his part while welcoming Tinubu's stance, said:  "I can only say that restructuring Nigeria has become inevitable, we need to take Nigeria to where it was before and pleaded with those who are still opposed to it to relent so that we can move Nigeria forward."
Omare, factional president of the Ijaw Youth Council on his part, said:  "The only difference is that he has come out to express the position that he had been known for all this while.
''For some of us, we are surprised that he had been quiet all this while as we had expected him to come and speak in favour of restructuring all these years, being a frontline advocate of true federalism over the years."
Second Republic lawmaker, Dr. Junaid Mohammed, was, however, unrelenting in his opposition to restructuring. He said: "I want to believe the statement credited to Tinubu is a reflection of individual frustration of what is happening within the All Progressives Congress, APC, as a party.
''President Buhari, the leader of the party, has refused to believe the party consists of strange bedfellows. The restructuring should start from APC."
"I have no reason to believe why Nigerians should support this call for restructuring. They have not been able to give reasons Nigeria should be restructured. I do not believe in that call because it seems to be a reflection of a personal frustration.''