At least seven people were killed when Boko Haram jihadists attacked a camp for people displaced by the conflict in northeast Nigeria, militia members and locals said Saturday.
The attack on Friday evening in Ngala, near the border with Cameroon, came as two people were killed in an explosion outside another camp in Borno state capital, Maiduguri.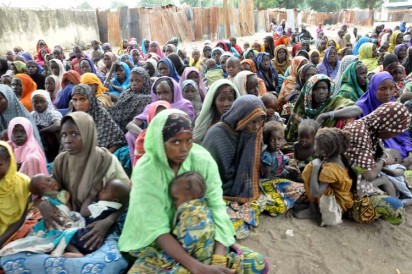 In Ngala, a civilian militia member, Umar Kachalla, said jihadists in two pick-up trucks fired a rocket-propelled grenade at the camp, which houses some 80,000 people.
"They fired an RPG into the camp from behind the fire fence, killing seven people and injuring several others," he told AFP, saying they let off a bout of sustained gunfire as they drove away into the night.
Ngala resident Abubakar Yusuf, who corroborated Kachalla's account, said: "The casualties were relatively minimal because most people had retired for the night."
The camp in Ngala was set up in January last year after the return of thousands of Nigerian refugees from Cameroon, where they had fled the fighting.
Boko Haram seized the trading hubs Ngala and neighbouring Gamboru in August 2014 when it took over a swathe of territory across Borno state and the wider northeast.
Nigerian troops retook both towns in September 2015 with the help of Chadian forces.
However, Boko Haram fighters still launch sporadic attacks, laying ambush to troops and vehicles as well as attacking and abducting farmers.
– Rise in attacks –
Nigeria's military and government maintains the Islamic State group affiliate is a spent force but its continued attacks underline the lingering threat, particularly to civilians.
Eight farmers were killed in a series of raids on Wednesday and Thursday. Four others were shot dead on Tuesday.
Many of the victims had returned home to try to grow crops to alleviate acute food shortages that have left hundreds of thousands of people on the brink of starvation.
Amnesty International said Boko Haram attacks since April had killed nearly 400 people in Nigeria and Cameroon — double the figure of the previous five months.
Nigerian army spokesman Brigadier General Sani Usman dismissed claims of a resurgence in violence as part of a smear campaign against the military.
Suggestions of security lapses or failings were "most unkind and uncharitable", he said in an emailed statement.
– Checkpoint blast –
In Maiduguri on Friday, two people were killed in an explosion outside the Muna Garage camp for internally displaced people (IDPs).
The sprawling camp on the edge of the city is currently battling a cholera outbreak caused by unsanitary conditions exacerbated by the rainy season.
Babakura Kolo, from the civilian militia assisting the military with security, said two women were asked to get out of a taxi at a checkpoint.
"One of the women tried to run into a crowd nearby but the explosives concealed under her hijab went off prematurely," he said.
"A female passenger in the taxi and a rickshaw driver trailing behind were killed in the explosion," he said in an account supported by a militia colleague, Musa Ari.
Five people — the taxi driver, another passenger and three men in the rickshaw — were injured, they added.
Kolo, who was at the scene, said a second female suicide bomber was also killed with the first in the initial blast.
Subscribe for latest Videos