BY CHARLES KUMOLU
LAST Wednesday's remarks regarding intra-party affairs in the All Progressives Congress, APC, and the likelihood of President Muhammadu Buhari's   second term ambition have unarguably kick-started the chain of events that would shape the remaining days of the Buhari administration.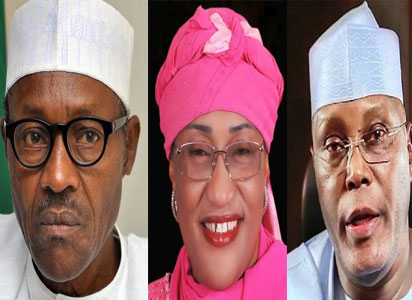 It is a fact that even the most ardent loyalists of the administration would not dispute considering that the development emerged from both likely and unlikely persons, former Vice President Atiku Abubakar and Minister of Women Affairs, Sen Aisha Alhassan.
Therefore, it would amount to political immaturity for anyone to suggest that the battle line has not been drawn on Nigeria's political scene, especially in the ruling party.
Observers are not in doubt that the combat promises to be intriguing, fierce and even contagious for every actor.
Interestingly, the matter is such that would definitely breed more casualties than victors among state and non-state actors in the days ahead.
Absence in the mainstream
Frankly, Atiku's lamentation of being sidelined after investing to ensure that APC was victorious in 2015, left no one surprised. And it came as no news to analysts, who had keenly observed his absence in the party's mainstream.   Perhaps, what only sounded unfamiliar was the decision to cry out at last.
''Honestly speaking, I'm still a member of the APC. I was part of all the processes, including campaigns until success was achieved. But sadly, soon after the formation of the government, I was sidelined, I have no relationship with the government, I have not been contacted even once to comment on anything and in turn, I maintained my distance. They used our money and influence to get to where they are but three years down the lane, this is where we are," the APC chieftain lamented.
They used our money, influence
In fact, his complaint is believed to be a corroboration of a similar lamentation by the First Lady, Aisha Buhari, who had twice fumed that outsiders, who contributed nothing to APC's success, now call the shots.
She had in 2016, bemoaned the situation thus: ''Again, nobody can beat his chest and say I am the one that brought this government to power. It was different people who came together and said enough of the old order. Unfortunately, some unknown people that do not know what we did during the campaigns were given appointments. Some of these appointees are not politicians, but they are occupying the seats of politicians who suffered to bring in this government.
"Honestly, I am not happy with what is happening, because this journey had just begun. It is, however, true that some of those that suffered with us have been considered, but look at the appointments of heads of agencies, you would find somebody who was in PDP and was fighting our APC gubernatorial candidate brought in as head of an agency.   '' she had stated in an interview with the BBC.
Unfavourable intraparty politics
The latest outrage further attested to the generally held belief that notable party leaders, on whose shoulders the APC rode to power had long been relegated to the backwaters.
Also, prominent among those believed to have been victims of unfavourable intra-party politics, is APC National Leader, Sen Bola Tinubu, who was the most formidable force behind APC's success in 2015.
Statements by party chieftains, friends, and even foes had long alluded to the assumption that Tinubu, who perhaps is the most influential politician in the country, was shunted aside.
Spotlighting the matter in a piece entitled: Until APC acknowledges Tinubu As Rallying Point, Kola Amzat, said: ''It was not long after the APC took over the government at the center that some elements mobilised resources to undermine Tinubu's influence at the seat of power and even within the party hierarchy. Their grouse: The Asiwaju's insistence that there must be internal democracy within the APC, and that nobody, regardless of status, should be seen as bigger than the party while members vying for positions at the national and state levels must be endorsed by the party."
Party I laboured with others to build
However, like Atiku, who restated his commitment to the APC despite the power-play, Tinubu had in December 2017 said he would not abandon APC,   irrespective of mistakes that have been made.
''This is a party I laboured with others to build. We would not abandon it for another. I have devoted my political life to achieve what has been achieved. My heart is too much of the people and my mind too fixed on establishing a positive historical legacy rather than engage in destructive pettiness, 'he stated."
Therefore, the Minister of Women Affairs' pledge to support Atiku should Buhari declare an interest to seek a second term can't be dismissed as not being connected to the politics of exclusion that had defined APC's treatment of key founding fathers.
After all, in a system where appointees are bound to often sound politically correct in favour of their principals, Sen Alhassan's action is rare to come by.
Fundamentally, the development means different things in the polity. Some considered it an act of disloyalty to the President, while others viewed it as an action that spoke truth to power. Indeed, it is believed that both sides of the divide may be right considering their respective values.
Unparalleled disloyalty
For instance, the Publicity Secretary of the APC in Lagos State, Mr, Joe Igbokwe, reacted to the issue thus on his Facebook page: "All things considered, let it be known and it is hereby made known that Mama Taraba has sacked herself from PMB's cabinet. Mama Taraba has displayed despicable, unacceptable and unparalleled disloyalty and therefore she has no choice than to leave PMB's cabinet as a matter of urgency."
Also, the Presidency on its part, termed it a party affair, while the APC, Saturday Vanguard learnt, viewed it as the President's burden.
Amid these misconceptions, SaturdayVanguard can authoritatively state that there is a consensus that the whistle for the 2019 presidential race has been blown by the development, though in an unusual manner.   And only habitual nay-sayers would ignore or perhaps consider Alhassan's remarks as a mere profession of loyalty by a political god-daughter.
Though, the APC through its Deputy National Chairman, Mr. Segun Oni had said that it would take a position on the matter alongside the President, followers of Nigerian politics considered the issue as being indicative of the internal wrangling in the party ahead of 2019.
''We are seeing a culmination of some of the intra-party squabbles which happen in every party. What makes this topical is that it has come when the time for the election is near.     And the implications are obvious. The timing of the statements should not be dismissed by any rational analyst. People should not be deceived that the dynamics will not change in the polity," President, Centre for Democracy and Political Accountability, Dr. Ben Okeagaba told SaturdayVanguard.