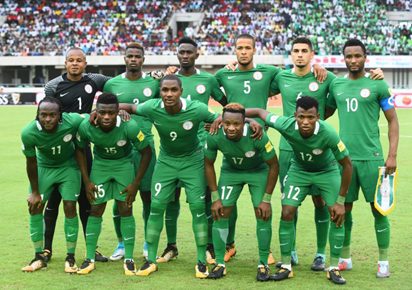 Nigeria national football team players pose prior to the 2018 FIFA World Cup qualifying football match between Nigeria and Cameroon at Godswill Akpabio International Stadium in Uyo, southern Nigeria, on September 1, 2017. / AFP PHOTO
As Super Eagles team B take on their Ghanaian counterparts in today's West Africa Football Union Cup of Nations final, the team players are focused on winning not just the trophy but also the $100,000 prize attached to it.
The team coached by Salisu Yusuf has been playing in the tournament without bonus of any sort. The Nigeria Football Federation told the players they will be settled from their winnings. Claiming the top prize therefore will be huge reward, according to reserve goalkeeper, Dele Ajiboye.
"We need this match because we have a chance to pay ourselves. And besides the cash we could make from this tournament, it will be great for our profiles," said the Plateau United player.
He noted that the match will not be a stroll in the park as the Ghanaians will be out to take their revenge, following their 2-0 loss to the Super Eagles earlier in the group A games.
"You know Ghana will be seeking revenge against us and so they will come out to attack us, but if they do so without much caution, they will make more mistakes to our advantage."
He revealed that the team is not under pressure and was glad the match will come up in the evening.  "All the matches we have won easily were played at night, 2-0 vs Sierra Leone and 2-0 vs Ghana – because the afternoon sun and heat affected us badly against Mali, Guinea and even when we beat Benin yesterday," he opened up, adding, "So, we are very excited that for the final, we will also play at night." Striker Peter Moses added that the Eagles will get the job done.
"We have already beaten Ghana and we will do that again. We want to take the trophy back to Nigeria, we don't want to be second best going by how the whole team have been talking about this final."